High performance memory specialist G-SKILL International, has revealed its next generation memory modules which are "guaranteed to provide the best-in-class performance, compatibility, and stability with a wide range of X99 motherboards". The G-SKILL Ripjaws 4 series DDR4 memory kits are to be made available in capacities up to 64GB and speeds of up to 3200MHz.
G-SKILL's new DDR4 memory range boasts high performance frequencies, high capacity, DDR4 quad-channel ready kits and ultra low voltages. The memory modules have been designed with 'all new' heatspreaders in three different colours, as you can see directly below.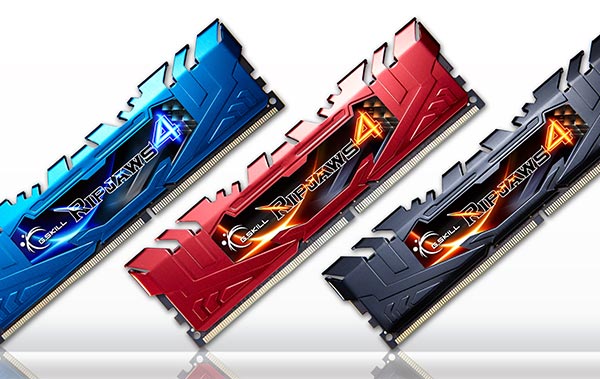 The table embedded shows you clearly what kits G-SKILL has put together as its initial DDR4 module offerings. In summary, all the kits are quad-channel compatible, the 2133MHz, 2400MHz, 2666MHz and 2800MHz kits are available in sizes up to 64GB and operate at 1.2V, the 3000MHz and 3200MHz kits operate at 1.35V.

G-SKILL has worked with the major motherboard manufacturers to validate its memory with most of the upcoming X99 motherboards in quad-channel operation. Those memory kits which run at 2400MHz or greater support Intel's XMP 2.0 for automatic tuning.
This latest G-SKILL Ripjaws range retains the established module height of 40mm so is compatible with most CPU heatsinks on the market, we are told. We didn't get informed about kit pricing or availability.

We have already seen the likes of Corsair, ADATA and Crucial show off their DDR4 memory ranges. We've seen information concerning the first X99 motherboards (an inadvertent leak since removed, and several official teases) and the first trio of Haswell-E processors have also been leaked. So are there any surprises left? At least shortly after the expected Intel processor and platform launch date, at the end of this week, we should be able to get our teeth into some independent benchmark figures.