Taiwanese high performance DRAM and NAND manufacturer Adata Technology has announced the launch of its latest XPG V2 series overclocking memory. The new XPG 3100 V2 memory modules, made with "special cooperation" from motherboard manufacturer Asrock, run at 3,100MHz with CL12 14-14-36 latency settings and a voltage of 1.65V. The new dual-channel memory is "designed to bring ultimate performance to gamers using Intel Core fourth-generation processors" and the Z87 platform.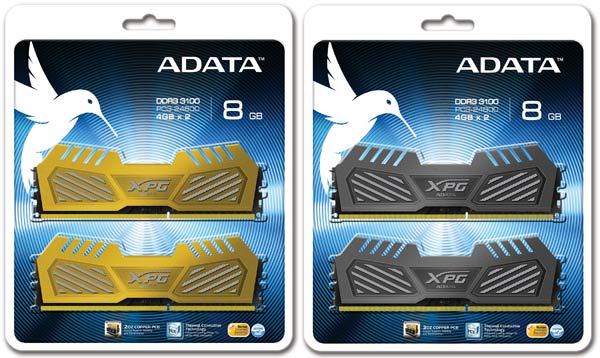 Adata XPG V2 3100 features
Supports Intel XMP (Extreme Memory Profiles) version 1.3
Supports dual channel mode
RoHS compliant
Complies with JEDEC standards.
Uses high-quality 8-layer printed circuit boards and aluminium heat sink, effectively reducing the memory module temperature
Adopts Thermal Conductive Technology (TCT) thermal technology for heat dispersal
Supports Intel Core processors and the latest fourth-generation Z87 platform
Lifetime warranty
Adata's XPG 3100 V2 memory modules are initially only available in 4GB capacity and will ship in dual-channel optimised 8GB kits. At its default DDR3 1333 speeds the memory has a CAS latency of 9-9-9-24 using 1.5V, while at DDR3 3100 speeds it's at 12-14-14-36 using 1.65V. To implement these top speeds the modules are directly overclocked using Intel XMP (Extreme Memory Profiles). These memory modules, when running at 3,100MHz, will provide a bandwidth of 24,800MB/s.

Adata XPG V2 3100 specs
Model: XPG V2 DDR3 3100
Timing: DDR3 1333 CL9-9-9-24 at 1.5V
Density: DDR3 3100 CL12-14-14-36 at 1.65V (XMP Profile 1)
8GB (4GB x 2)
Performance: 3100MHz (Frequency)
Peak transfer rate: 24,800MB/sec
Voltage: 1.65 Volts
Colours: available in black or gold finishes
In the pictures of the modules above you can see the modules with their characteristic extruded heat dissipating fin design and Thermal Conductive Technology. The pricing of the Adata XPG 3100 V2 memory modules is unknown at this time.