Crucial has spruced up its line of enthusiast DDR3 memory with the launch of a new Ballistix kit.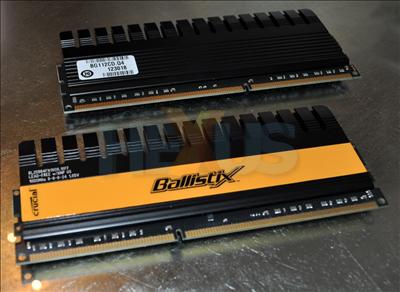 The 4GB (2x2GB) pack, pictured above, features modules equipped with a new-look heatsink that extends into 32 fins.
Crucial reckons the added surface area will result in 30 per cent improved cooling, but it's going one better than that by allowing users to monitor temperatures in real time.
A thermal sensor is built into the new modules, and - when coupled with the bundled software utility - users can check or log temperatures whenever they please.
Useful for the overclocking crowd, perhaps, but the speed of the launch modules is a little conservative. The 4GB Ballistix kit (model BL2KIT25664FN1608) is set to run at 1,600MHz with timings of 8-8-8-24 at 1.65V, and is currently available exclusively from Newegg.com priced at $119.99.
Expect to see wider availability in July, but in the meantime here's a couple of screenshots of Crucial's temperature monitoring software in action.