If Corsair's tri-channel DOMINATOR memory is ultra quick, then Kingston Technology's 2GHz HyperX solution has to be labelled as super-duper quick.
In preparation for Intel's impending Core i7 launch, the California-based memory specialist has announced an entire range of tri-channel solutions designed for X58 motherboards and raised the performance bar to 2,000MHz.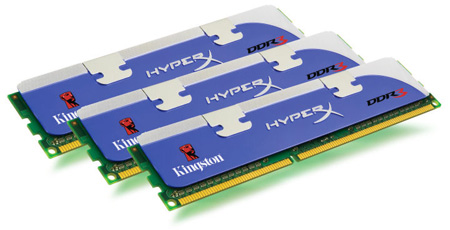 Kingston's 3GB HyperX DDR3 2GHz memory - priced at around £205 - supports Intel's XMP (Extreme Memory Profile) and meets Core i7's 1.65 voltage recommendation. It does it, however, in a 3GB kit consisting of three 1GB modules, there's no 6GB offering at 2GHz yet. The quickest 6GB kit as far as we're aware is Corsair's 1,866MHz solution.
As you'd expect, Kingston is proud of its achievement and served up the customary YouTube celebration:
Aside from the high-end gamer-orientated 2GHz kit, Kingston has a whole range of tri-channel solutions that cater for a wide range of users - including a 3GB ValueRAM kit at £80.43, that could be the cheapest tri-channel we've seen thus far.
The entire range breaks down as follows and each kit is backed by Kingston's lifetime warranty:
Kingston HyperX & ValueRAM DDR3 Specifications

Part Number

Capacity and Features

MSRP (without VAT)

KHX16000D3K3/3GX

3GB 2000MHz (CL9-9-9-27 @ 1.65v)
kit of 3 optimized for XMP

£204.51

KHX14900D3K3/3GX

3GB 1866MHz (CL9-9-9-27 @ 1.65v)
kit of 3 optimized for XMP

£193.79

KHX14400D3K3/3GX

3GB 1800MHz (CL9-9-9-27 @ 1.65v)
kit of 3 optimized for XMP

£190.72

KHX12800D3LLK3/3GX

3GB 1600MHz (CL8-8-8-24 @ 1.65v)
kit of 3 optimized for XMP

£174.64

KHX11000D3LLK3/3GX

3GB 1375MHz (CL7-7-7-20 @ 1.65v)
kit of 3 optimized for XMP

£117.19

KVR1333D3N9K3/6G

6GB 1333MHz (CL9-9-9 @ 1.5v)
ValueRAM kit of 3

£147.06

KVR1333D3N9K3/3G

3GB 1333MHz (CL9-9-9 @ 1.5v)
ValueRAM kit of 3

£80.43

KVR1066D3N7K3/6G

6GB 1066MHz (CL7-7-7 @ 1.5v)
ValueRAM kit of 3

£147.06

KVR1066D3N7K3/3G

3GB 1066MHz (CL7-7-7 @ 1.5v)
ValueRAM kit of 3

£80.43
Official press release: Kingston Technology Launches HyperX DDR3 2GHz Triple-Channel Memory