Premium memory and gaming peripherals specialist G.Skill has emailed HEXUS with details of two new high performance memory kits targeting systems based upon the latest Intel Core X-series processors and X299 motherboards. The new DDR4-4266 64GB (8x8GB) and DDR4-4000 128GB (8x16GB) RGB memory kits, claimed to offer the greatest speed/capacity available, will become available in 1Q19.

The G.Skill Trident Z DDR4-4266 CL19-19-19-39 8x8GB 1.45V kit is said to be the fastest 64GB available (8x 8GB). This 4266MHz validated RAM is said to be ideal for building high performance PCs for 3D rendering, multimedia editing, or other professional applications. Buyers of this 64GB kit will get DIMMs with high performance Samsung B-die ICs beneath the classic Trident Z black heatspreaders (pictured above).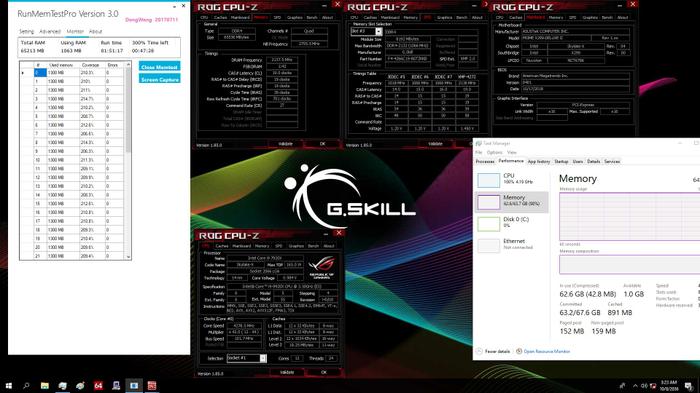 If 64GB would feel a bit cramped for your intended purposes, G.Skill is readying the world's fastest 128GB kit –the Trident Z RGB DDR4-4000 CL19-19-19-39 8x16GB 1.35V kit with 8x 16GB DIMMs (validation image below, click to zoom). Admittedly its 4000MHz validated speeds are a little lower than the 64GB kit but it runs at the same CL19-19-19-39 CAS latency with a lower 1.35V voltage. This very large capacity kit builds on the modest black heatspreader appeal of the 64GB kit with an RGB LED top bar on each DIMM (pictured bottom).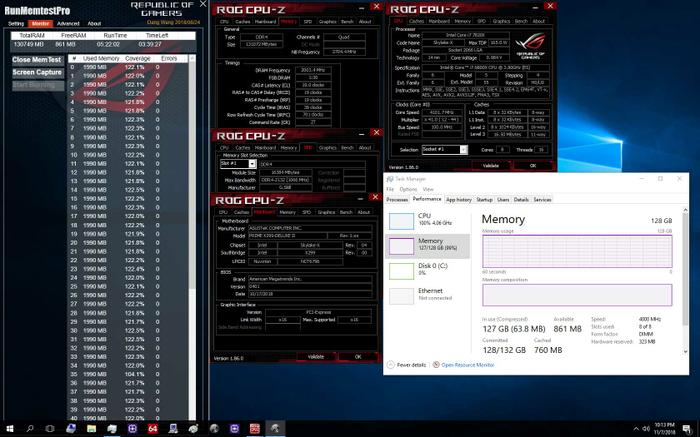 These Intel XMP 2.0 compatible memory kits, detailed above, have been validated on the Asus Prime X299-Deluxe II motherboard with the Intel Core i9-9920X and Core i7-9800X processors, respectively. Those interested in the above kits will have to wait until early next year for availability and pricing.