It's been over two years since we first heard about Intel and Micron collaborating on 3D Xpoint memory. At that time there were a number of compelling use cases put forward for the innovative high-density non-volatile memory technology. Much was promised during the initial announcement for this tech which sits between NAND and RAM - but so far the speeds haven't been as compelling and the pricing hasn't been as keen as was teased. Furthermore, we have only had one type of 3D Xpoint product reach the market thus far; Optane storage devices. Now it looks like we have a firmer grasp of when Intel will release the first Optane DIMMs, thanks to a presentation by Intel's Navin Shenoy, EVP, Data Center Group, at the UBS Global Technology Conference earlier this week.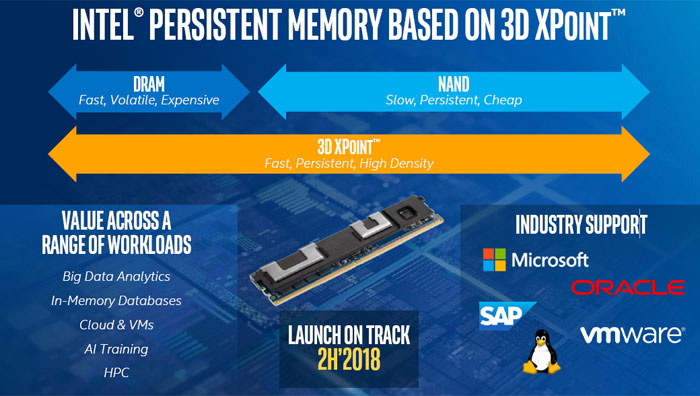 As you can see from the key slide of the presentation deck regarding 3D Xpoint, reproduced above, Intel is "on track" to launch its DIMMs in the second half of 2018. Initially the target markets for 3D Xpoint DIMMs will be those indulging in the following workloads, predicts Intel:
Big Data Analytics
In-Memory Databases
Cloud & VMs
AI Training
HPC
Intel says industry support is robust with the fast, high density, persistent memory packing DIMMs being welcomed by software developers from Microsoft, Oracle, SAP and more.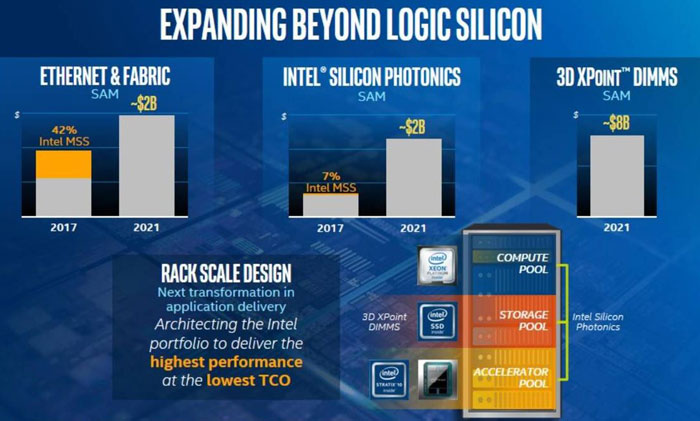 The long wait for Intel Optane DIMMs isn't such a surprise. We heard that engineering sample availability was "just around the corner" about 20 months ago, and a hardware sample was shown off around that same time (January 2016). Then, in January 2017, we heard that Optane memory modules had been sent to partners for testing. However, there were reportedly significant challenges in getting ready for mass production still to be overcome.