'World's fastest' DDR3 memory - Vitesta DDR3-2000X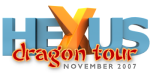 A-Data Technology reckons that it's once again developed the world's fastest DDR3 module - the DDR-2000X - after the announcement of the DDR3-1900X just one month ago. The launch of the new-gen P35 and X38 platforms is perfect timing as the company thinks that extreme overclockers will be gagging for ever-faster RAM.

A-DATA tells us that the DDR3 2000X clocks like a mentalist on both X38 and P35 chipsets, thanks in part to the CL 9-9-9-24 timings, and is now the highest spec for DDR3 from 1333 to 1866.

A knock-on effect is that CPU overclocking can be by the memory clock, so you can eak out even more performance there, too. A-DATA says that the titanium-coloured X series has hit over 13,000MB/s on the EVEREST Memory bandwidth read and write test, banging in an extra 1000MB/s over the DDR3 1900X.

The DDR3-2000X uses a 128m x8 pin layout and is available as a 2GiB (1GiB x2) dual-channel kit. Timing recommendations for overclocking are provided in the kit, to ease the way for experienced overclockers and newbies.