The performance PC memory experts at G.Skill have conjured up a several new Trident Z RGB DDR4 matched memory kits. The firm's newest kits are based around multiples of 16GB or 8GB DDR4-3333MHz memory modules. Headlining the new offerings, G.Skill has announced the Trident Z RGB DDR4-3333MHz 128GB kit, consisting of 16GBx8 memory modules. These Trident Z RGB kits are designed for use with Intel X99 and Z270 platforms.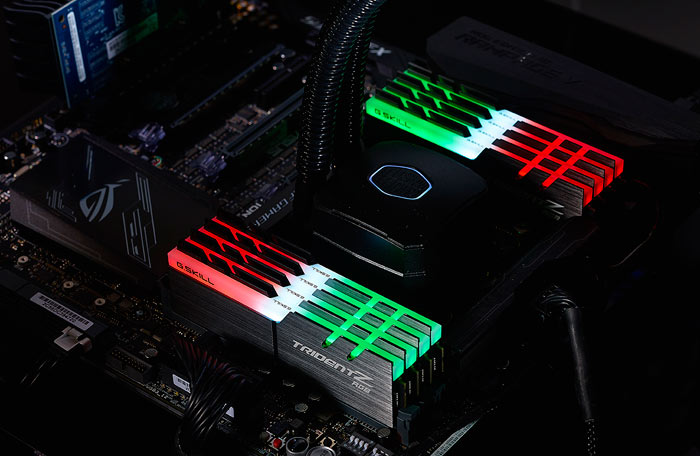 Customer feedback for the original Trident Z RGB memory series in December was apparently good but users wanted higher capacity options. Thus G.Skill has worked hard to deliver memory kits featuring high performance DDR4 16GB RGB modules. It's also produced a new Trident Z RGB video trailer to show its kits of as many as 8 memory modules pulsating in sync with each other; in coordination with other system components, and in time to music, for example. In the video, embedded below, you can see the Trident Z RGB memory modules in action inside an NZXT chassis / cooler system based around an Asus Rampage V motherboard.
G.Skill considers its Trident Z RGB DDR4-3866MHz 32GB (16GBx2) kit running at 1.35V, with CL18-18-18-38 timings, to offer the "ultimate combination of capacity and speed", and it is indeed the fastest of the new kits announced today. Other kits it wants to put under the spotlight are the Trident Z RGB DDR4-3466MHz CL16-18-18-38 in 8GBx8 and the 128GB capacity Trident Z RGB DDR4-3333MHz CL16-18-18-38 in 16GBx8 config.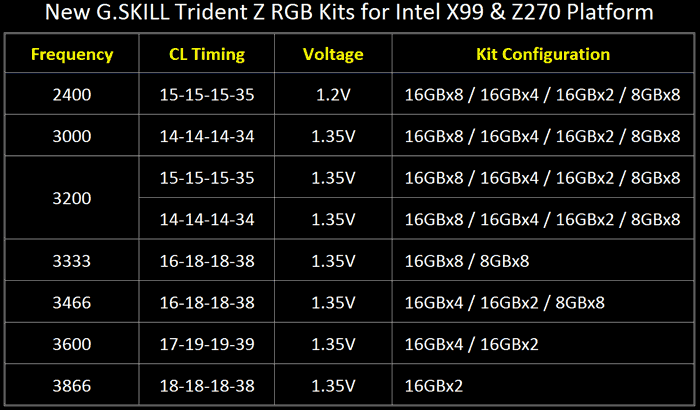 The full new product matrix tabulating top frequencies supported, timings and capacities is provided above. These XMP 2.0 supporting kits are scheduled for release next month. Pricing is yet to be announced but buyers will receive a limited lifetime warranty on the memory modules.