Corsair today launched both a new PSU and a new liquid cooler aimed at PC enthusiasts. The PSU is called the Corsair AX1500i Digital ATX power supply and as you might expect from the name, delivers 1500 watts of power. The Corsair Hydro Series H105 Liquid CPU cooler is a new member of the Hydro series and boasts a 38mm thick 240mm radiator to aid efficient heat dissipation.
Corsair AX1500i Digital ATX power supply
Corsair's beefy new power supply is said to deliver 1500 watts of ultra-stable power thanks to the digitally controlled circuitry utilising a DSP. It is also energy efficient and goes beyond the 80 PLUS Platinum specification – meeting the current draft specification known as ATX 115 Volt 80 PLUS Titanium for consumer PSUs – offering energy efficiency of up to 94 per cent.
The DSP controlled circuitry in the AX1500i helps this PSU supply consistent and stable power with "amazingly low ripple and noise," says Corsair. Due to its efficiency the PSU generates less heat and therefore the fans don't need to work so hard. The custom-designed fluid dynamic bearing 140mm fan doesn't even need to spin until the PSU load reaches 450 watts. We are told that even when 1500 watt power output is required the fan runs quietly. Furthermore the PSU can be user controlled and monitored by Corsair Link technology.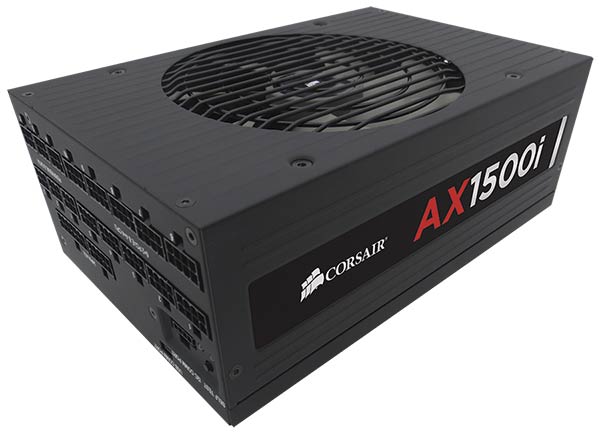 "When we released the AX1200i, the world's first digital ATX PSU, we defined the new standard for PSU performance, efficiency, and customization," said Aaron Neal, product manager of PSUs at Corsair. "Now with the AX1500i's evolved digital architecture we've raised the bar again, creating the most efficient and technically advanced PSU available for the uncompromising PC enthusiast."
94% efficiency at 50% load at 115V
Includes 8 PCI-E cables for support for up to 4 GPUs
Native USB onboard for Corsair Link real-time monitoring and customization
100% Japanese capacitors
Custom-designed fluid dynamic bearing 140mm low-noise fan
Silent Zero RPM Fan Mode up to 450 watts and ultra-quiet operation at full 1500 watt output (26.5 dBa)
Dimension: 150mm x 86mm x 225mm
7-year warranty
$449.99 MSRP – available from Q2 2014
Corsair Hydro Series H105 Liquid CPU cooler
The new H105 is Corsair's first Hydro Series cooler to be equipped with a 38mm thick 240mm radiator. A thicker radiator, to improve heat dissipation is apparently a popular request from users and would-be users of Corsair liquid coolers; "For 240mm radiators, we've had a lot of requests for a thicker version with more surface area to improve cooling performance. Now those requests have been answered," said George Makris, Product Manager for Cases and Cooling at Corsair.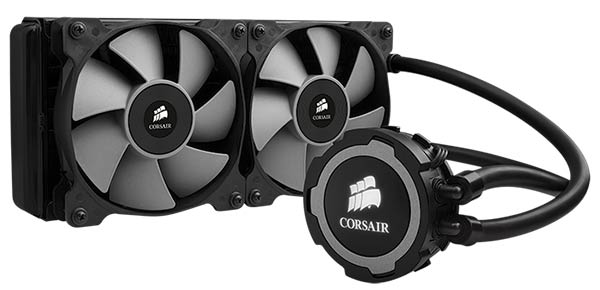 The H105 is fitted with a pair of high-performance SP120L PWM 120mm fans, said to offer the best balance between air pressure and noise. The sealed cooling loop is powered by a high-quality on-board ceramic-bearing pump providing reliable flow and heat transfer away from the CPU.
The new Hydro Series cooler is compatible with both AMD and Intel CPUs using the following slots; AM2, AM3, FM1, FM2, LGA 1156, 1155, 1150, 1366, 2011. PWM fan control is available if your BIOS supports it. Fitting of the new H105 should be simple thanks to Corsair's new tool-free CPU mounting block. Also case compatibility shouldn't be a problem if your case can already accommodate any other 240mm radiator, we are told.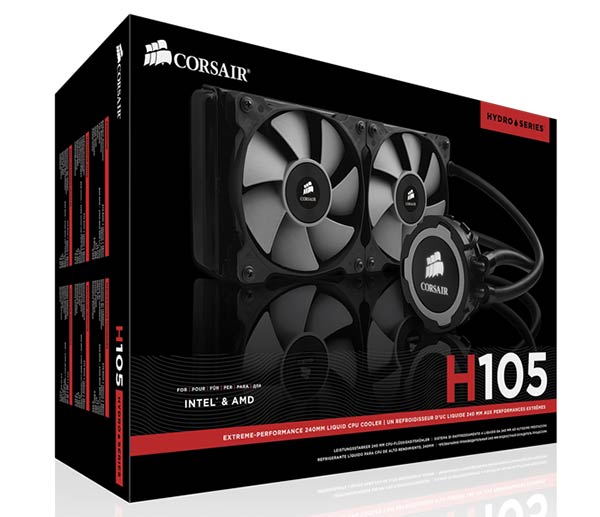 Corsair says the new cooler is available immediately at $119.99, it is pre-filled and maintenance free, backed by a 5 year warranty.