With DDR2 being cheap as chips and DDR3 memory's ceiling limited by the variability of overclocking on current chipsets - limited to Intel's P3x, X38/X48 - there was little new on the memory front from the major enthusiast-oriented manufacturers.

Rather, Corsair had a prototype 1,000W PSU on display.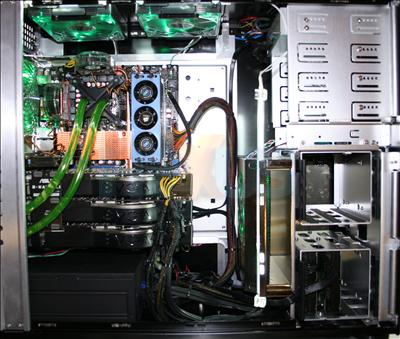 Powering a rig that included an overclocked Intel Core 2 Extreme QX9770, three EVGA GeForce 8800 Ultras in three-way SLI, and a

cornucopia

of other esoteric kit, the modular supply will follow others in Corsair's stable by being backed by a five-year warranty and continuous-wattage rating at 50C.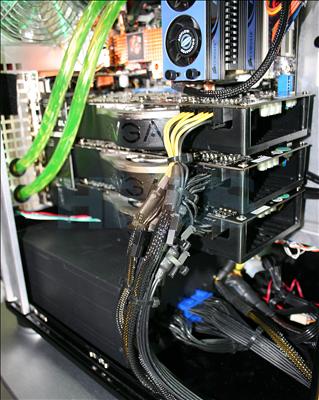 Fitting into the ATX 2.0 spec, albeit a little larger than normal, it also features a single 140mm fan with doublel ball-bearings and Japanese-made capacitors. Internally, it carries two completely separate 12V lines, from what can be thought of as two separate mini-PSUs, and is reckoned to be 85-plus per cent efficient thanks to the 3.3V and 5V lines being directly derived from the 12V's.

We can only think of a few occasions when such power would actually be needed, as in the case presented above, and Corsair now becomes the latest player in the ultra-high-wattage ring.

The 1,000W model should be available in a couple of months' time, although no indication on pricing.

On a different note, one of the company's stated aims for 2008 will be to aggressively pursue the lucrative high-end OEM system-building market with respect to installing Corsair-branded PSUs and XMS memory in luxury systems, according to the CEO and president, Andy Paul.

All HEXUS CES 2008 content