Leading power supply maker FSP has collaborated with liquid solutions creator Bitspower to produce a brand new product for PC enthusiasts. Together the companies have created the FSP Hydro PTM+, a liquid cooled RGB LED equipped 1400W PSU.

According to FSP the impetus behind the collaboration with Bitspower to create "the world's first mass produced liquid cooled PSU," was the demand for such a product shown by many PC building enthusiasts. Such enthusiasts have been seeking an innovative, effective, and aesthetically pleasing (RGB LED?) PSU cooling solution, we are told.
For those that might worry about mixing water and a mains electricity input, FSP assures us that its advanced technology delivered in partnership with Bitspower will be safe, and efficient.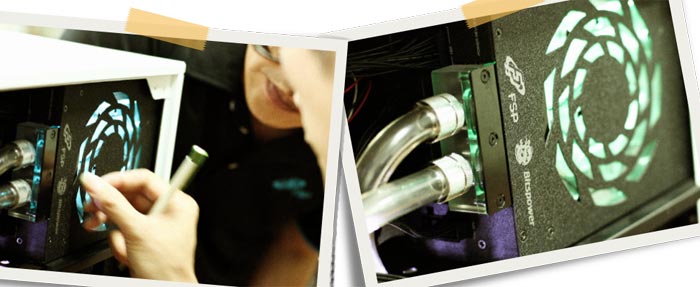 On the topic of performance, the Hydro PTM+ is 80 Plus Platinum certificated. Once the user has enabled the liquid cooling system the PSU's power rating increases from 1200W to 1400W. The PSU packs an array of sensors to function smarter and quieter. When running in silent mode (below 50 per cent load) it still delivers 600W without the need of active fan cooling, and thus it operates "in complete silence", says FSP.
The FSP Hydro PTM+ will be on show at Computex at FSP's booth between 30th May and 3rd June, Booth L0509a (4th floor), Meeting room 505 (5th floor), Nangang Exhibition Hall.
In an email to HEXUS, FSP outlined another couple of interesting products it would showcase at Computex alongside the Hydro PTM+. Most interestingly FSP is readying "the world smallest 80 Plus Platinum certified 850W FLEX PSU." In addition, FSP is working on a range of power solutions for the IoT industry.