Early this year EVGA launched its first dedicated sound card in partnership with Audio Note (UK) Ltd. Now EVGA has announced the successors to its first audiophile grade Nu Audio card: the Nu Audio Pro series of PCIe x1 Gen2 cards. In the new offerings you will find new features such as 7.1 surround sound, upgraded audio circuitry components, and an eye catching new design with RGB Multi-Zone with Audio Reactive Lighting options.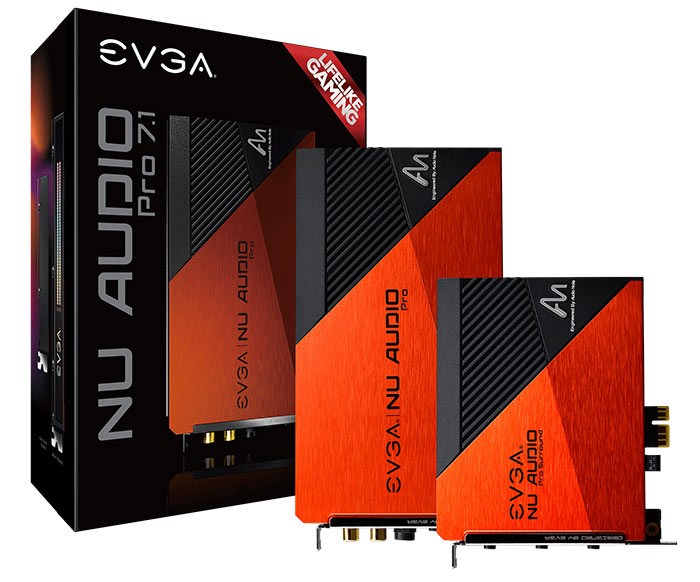 The Nu Audio Pro 7.1, Nu Audio Pro, and Nu Audio Pro Surround cards are sold and listed separately - so initially you might think there are three new sound cards on offer - but there is basically one card with an optional analogue surround sound add-on.
EVGA's new top of the range Nu Audio solution is the Nu Audio Pro 7.1, which by its name you can see is a 7.1 surround sound capable card. When you buy the Nu Audio Pro 7.1 you will receive a Nu Audio Pro stereo (with 5.1 optical out) card plus a Nu Audio Pro surround card bundle offering quadraphonic, 5.1 or 7.1 analogue surround sound. The idea is that people who are not ready for quadraphonic, 5.1 or 7.1 analogue surround right now can just get the Nu Audio Pro, and perhaps get the mini-DisplayPort connected surround sound expansion card at a later date.

So, what is upgraded? Starting from the outside, there is a swish new gold and black cover, and multi-zone RGB lighting (three zones). The top two lighting bars you can see in the image above can provide reactive lighting to pulse dynamically in time with the audio. On a more practical level the cards feature a uniquely designed and EMS-shielding backplate.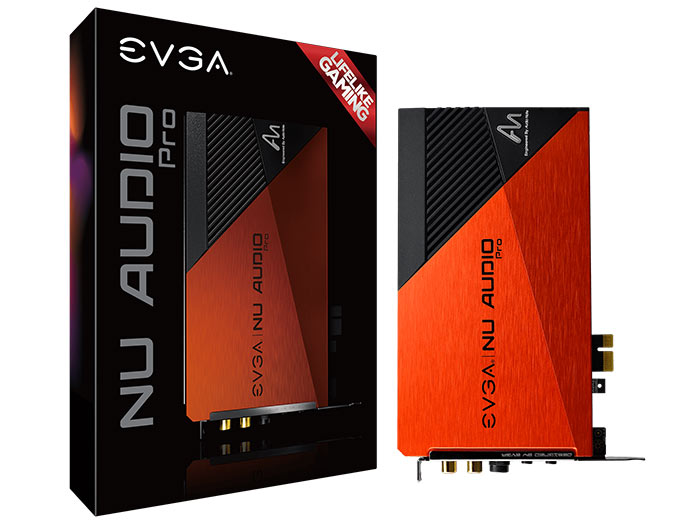 Inside you will find a XMOS xCORE-200 audio DSP, supported by Seiryu (Azure Dragon) capacitors, designed from the ground up for improved audio throughout the frequency spectrum. EVGA touts these capacitors as delivering decreased distortion in the high frequencies, improved transparency and space in the mids, with a dense and tight bass. Furthermore, the Nu Audio Pro card features AVX F95 audio tantalum capacitors to lower distortion, create a darker background, yet still give a dense lush feeling to the audio. EVGA notes that NP0 ceramic capacitors were replaced with Panasonic PPS types, to give a sweeter more natural treble. Lastly, with regards to these component choices, the new sound cards feature an LT1469 op-amp for the headphone out, "which provides a lusher and more high quality sound to the audio, bringing out great dynamics and sound-staging without the edginess or rough sounding qualities of other op-amps".
Gamers get access to Nahimic 3D Audio with virtual surround tech plus software offering a Quick EQ menu to quickly adjust audio, smart volume to limit volume fluctuation, and ambient noise suppression.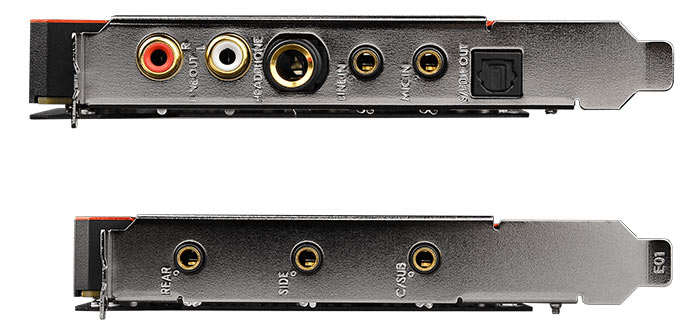 Accompanying all the hardware changes, EVGA has updated the Nu Audio Software too. It has had a makeover for all the new configuration options and provides individual and linked channel volume controls, and a new page to control the RGB lighting.
EVGA's Nu Audio Pro 7.1 pack is priced at $299.99 and will become available from 20th Dec.