Netgear has launched two next generation Homeplug powerline adapter kits. The new Netgear PL1200 and PLP1200 kits, first shown at the CES this January, have now started to become available in retail. As you might guess from the numerical suffix in the model names these are 1.2Gbps transfer speed capable devices.
Homeplug networking saves home owners from laying down many metres of Ethernet cable while providing more consistent and reliable network connections than most Wi-Fi setups could. This is especially true if your dwelling is particularly spread-out or features construction materials such as reinforced concrete. Homeplug systems have got faster and faster over recent years as the technology is refined and now many companies are bringing out, or have already released, '1200' models.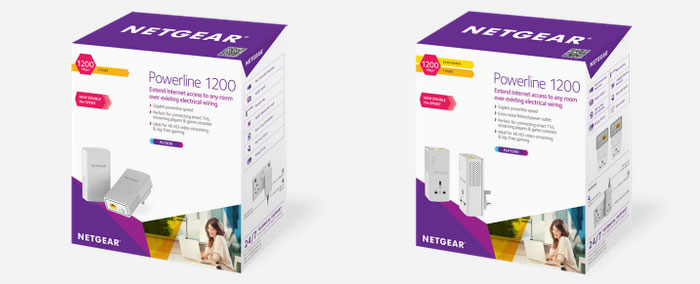 The Netgear PL1200 is as simple and easy to deploy as any previous powerline networking kit you might have in your home/office. Netgear says that thanks to the extra bandwidth available and 'beamforming' technology that "the Powerline 1200 is perfect for connecting smart TVs, streaming players, and game consoles." Transfers speeds are good enough for 4K movies and should help eliminate network gaming lag, says the firm. In its own testing, transferring a single 500MB file via new PL1200 adaptors took just 12 seconds, while previous generation Powerline 500 devices took 46 seconds to complete the same job.
Additional welcome features of the PL1200 include its 'pick-a-plug' LED system which helps you choose the best performing plug nearby – if you have the luxury of such a choice. As with many of these devices Netgear's PL1200 offers energy saving features and will power down when not in use.
Moving on to the Netgear PLP1200, it shares all the features of the other model but provides a pass-through plug socket. Of course this is a good feature if you are short of sockets in a particular area where you want to deploy the Homeplug network.
Both the Netgear PL1200 and PLP1200 are Homeplug AV2 compliant so you can easily mix them in with your other compliant equipment without technical difficulties or the need of any extra software installation. The only user action usually required is a push of the respective pairing buttons so they are accepted into your powerline network. The packs include 2x powerline adaptors, 2 x 2m Ethernet cables and a quick-start guide. You can have up to 16 adapters in your Homeplug network.

Netgear says that the PL1200 kit is available now in the US and will be available in Europe later this month with an MSRP of £69.99. The PLP1200 kit will become available in the US and Europe during May and has an MSRP of £79.99.