Synology has emailed HEXUS today to tell us about the global launch and availability of the DiskStation DS414slim. The successor to the popular DS411slim, the DS414slim features a new processor, more memory, greater storage capacity and more and faster interfaces. Notably the new model is much improved in its media streaming performance. Check out a comparison table here, if you are interested in old-vs-new.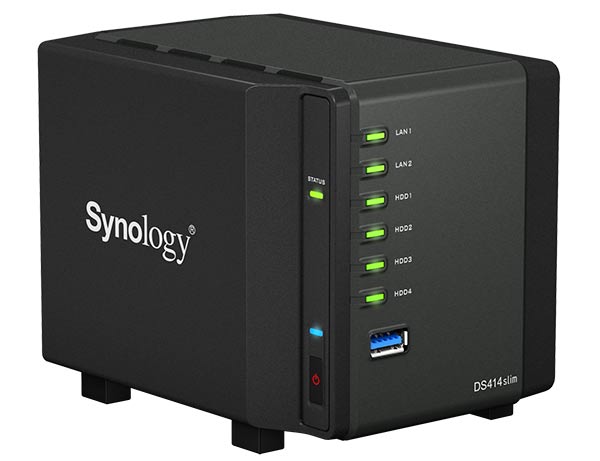 The DiskStation DS414slim is built to accept 2.5-inch form factor HDD/SSD drives. It can accept up to four such devices with a maximum capacity of 6TB in total (1.5TB HDD x 4). That's an improvement upon the previous DS411slim model's 4TB maximum capacity. The DS414slim is only 120 x 105 x 142 mm and weighs in at 0.66Kg unpopulated.
Other improvements to this slim NAS include a new processor; the Marvell Armada 370 which runs at 1.2GHz. This SoC utilises an ARMv7 core and an FPU. It is purpose built for devices such as NAS, with lots of I/O possibilities. The 512MB of RAM is also double what was installed in its predecessor. Synology says that this component combination "guarantees the optimum experience of intensive applications". Looking at the comparison with its predecessor it certainly seems a lot better at movie streaming.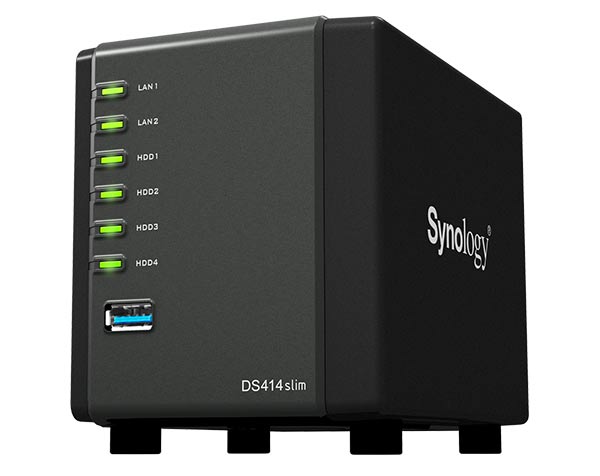 The performance figures in Windows show the DS414slim delivers average read and write speeds of 110.91MB/s and 54.53MB/s respectively. Connectivity is via dual Gigabit LAN ports and two USB 3.0 ports. Drives are said to be snap-in hot swappable for convenience. The DS414slim consumes just 15.48 watts in accessing mode. Power use can be reduced by utilising the Wake on LAN/WAN and Scheduled Power on/off features. We are told that the Synology DS414slim can run cool 24/7. A new easy-to-replace 60mm fan with smart airflow is installed to help prevent any heat problems.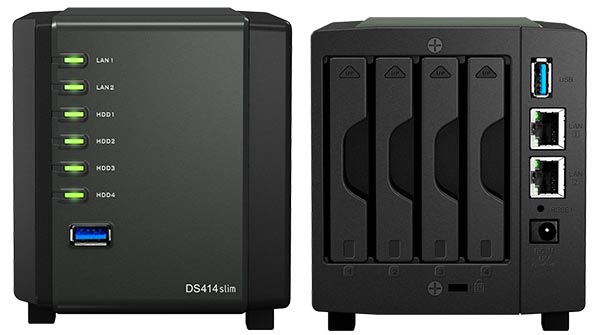 Wrapping up the offering and as you might expect, the DS414slim runs Synology's award winning DiskStation Manager 5.0 operating system software. It's able to provide seamless file sharing across Windows, Mac, and Linux platforms. Furthermore CloudStation allows file sync between Windows PC, Mac, Linux, iOS and Android tablets or phones. Another utility, CloudSync, provides syncs your Dropbox, Google Drive and Baidu storage with the personal cloud provided by the DiskStation software.
As mentioned in the headline the DS414slim is available now, however I couldn't find a live listing for the device at the time of writing.