Back in April, Compro Technology - a Taiwanese manufacturer best known for its PC-TV and digital video products - announced its arrival in the network video security market by unveiling a range of IP cameras at Taipei's SecuTech Expo.
The good news for security-conscious Brits is that Compro's VideoMate IP50 series is now available in the UK.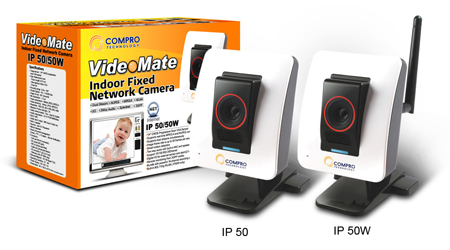 The IP50 series, pictured above, consists of the standard IP50 and the Wi-Fi-touting IP50W. Both promise a "cost-effective and easy-to-install" fixed-camera solution for indoor use. The IP50-series line supports real-time MPEG-4 video compression, smart motion detection, and features both a built-in mic and speaker and a digital I/O for an external sensor and alarm.
Compro lists the IP50's key features as follows:
1/4in CMOS progressive scan VGA sensor
Supports real-time MPEG-4 and MJPEG compression (Dual Codec)
Supports simultaneous dual streams
Image frame rate is up to 30 frames per second at 640x480 resolution
Smart motion detection
Two way audio with built-in MIC and speaker
Support UPnP (universal plug and play)
Support 10/100 802.3/Ethernet
Built-in 802.11b/g WLAN (IP50W only)
Digital I/O for External Sensor and Alarm(2 In/1 Out)
Easy to Install with VideoMate IP Cam Wizard
Remote monitoring through internet via compatible 3GPP/WM5/WM6 mobile phones
Bundled with powerful 16-channel surveillance software --- VideoMate ComproView
Both cameras can be purchased from a variety of etailers, and SCAN.co.uk currently has stock of the IP50 and IP50W with prices listed at £70.15 and £80.47, respectively.