Razer has launched its first networking product, the Razer Sila gaming mesh router. In an associated press release, the firm claims that the Sila is the "fastest gaming grade Wi-Fi router for PC, console and mobile," and that it can deliver best-in-class speeds and an interference-free connection even in the busiest Wi-Fi areas.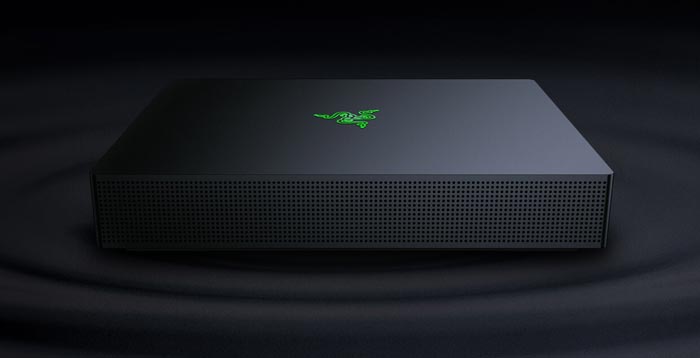 With the growing popularity of mobile gaming and the fact that many home owners don't want the expense or upheaval of creating a wired network for every room (I use HomePlug networking) Razer says its Sila router comes into its own, as it is "designed to deliver lag-free gaming and smooth, interruption-free streaming over a fast wireless network". Third party testing by Allion USA backs up Razer's outperform claims for mesh routers in 'busy' real-world environments.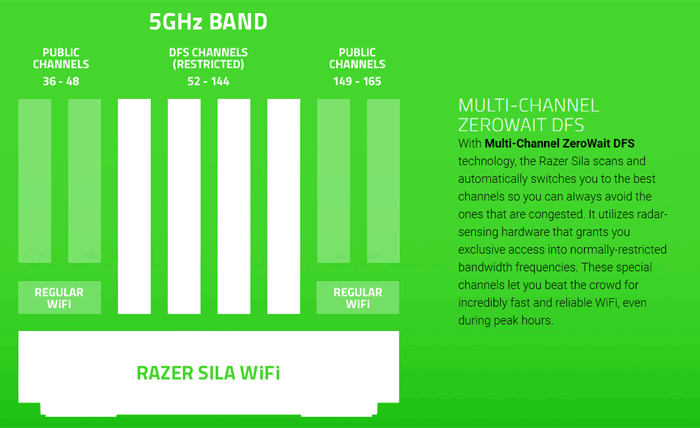 The Razer Sila uses the following key technologies to achieve its claims:
Razer FasTrack – Intelligent continuously adaptive QoS with Deep Packet Inspection prioritizes applications & devices for high-speed gaming & streaming
Multi-Channel ZeroWait DFS – Get additional bandwidth on protected fast channels for reliable, interference-free, lag-free connections
Tri-Band Mesh with Dedicated Backhaul – For widespread coverage with maximum performance
Intelligent Active Steering – Ensures client devices are always connected to the strongest signal
App and Smart Software Support – iOS & Android app with advanced features for guest network & security controls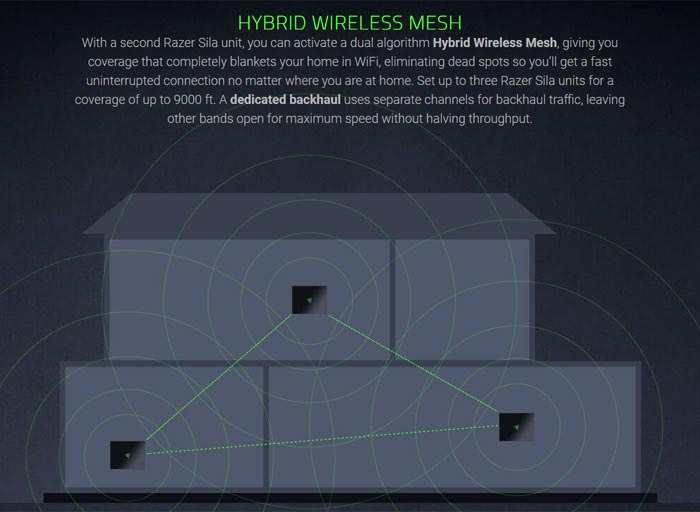 For the Mesh Networking functionality users with two or more Razer Sila units can combine their signals to cover large areas. Razer says that areas up to 6,000 square feet can be covered with two units, or multi-storey locations over 6,000 square feet can be covered with three units.
Razer's design partner for the Sila was Ignition Design Labs, a technology and engineering firm founded by alumni of networking giants Qualcomm and Broadcom.
If you are interested in buying one or more Razer Sila routers, they are available now from the Razer Store and other outlets worldwide. Suggested pricing is USD $249.99 / EU €299.99.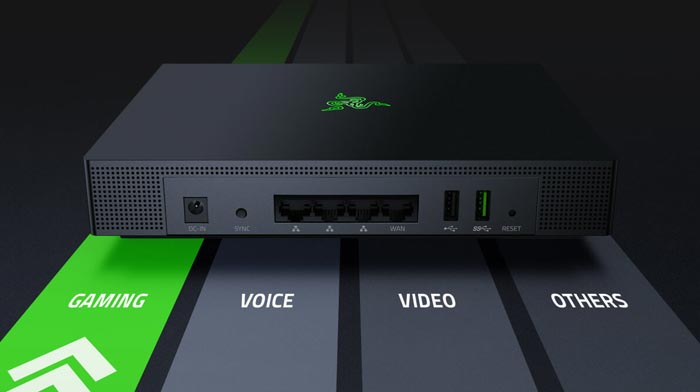 Razer Sila key specifications:
Wireless:
Tri-Band AC3000
IEEE 802.11 a/b/g/n/ac
11n 2.4GHz: up to 400 Mbps
11ac 5GHz-1: up to 1734 Mbps
11ac 5GHz-2: up to 866 Mbps
Encryption:
Antenna:
9 x powerful high-gain internal antennas
Features:
Razer FasTrack Adaptive QoS + DPI Engine
Multichannel ZeroWait DFS
Tri-Band Mesh with dedicated backhaul
Multi-user MIMO & Beamforming technology
Intelligent active steering
Isolated guest network support
Simplified app setup via Android or iOS
Interfaces:
4 Gigabit Ethernet (1x WAN, 3x LAN)
1 x USB 2.0 port
1 x USB 3.0 port