Netgear's new Wireless-N devices look sexy in black

Not content with introducing new ReadyNAS Duo solutions, Netgear has also unveiled a selection of rather smart looking Wireless-N products.
The family of Wireless-N devices (pictured at the foot of the page) consists of the:
RangeMax Dual Band Wireless-N Router (WNDR3300)
The WNDR3300 has an integrated array of eight internal antennas and supports 5GHz Wireless-N to help avoid interference with other appliances. It's backed by a one-year warranty and already available in the USA at a retail price of $129.99.
RangeMax Wireless-N Gigabit Router (WNR3500)
This Wireless-N Gigabit Router packs five Gigabit Ethernet ports (one WAN and four LAN), as well as eight internal antennas, and can be had for $159.99.
5GHz Wireless-N HD Access Point/Bridge (WNHDE111)
This product can be used as a standalone bridge or as a 5GHz Wireless-N access point when connected to a router. It's available now for $129.99.
HD/Gaming 5 GHz Wireless-N Networking Kit (WNHDEB111)
This kit packs together two WNHDE111 units with the aim of providing, 'complete, reliable high-performance wireless connectivity' around the home network. The two units auto configure and together will set you back $229.99.
RangeMax Wireless-N Dual-Band USB Adaptor (WNDA3100)
Users seeking to upgrade their wireless USB adaptor might look towards the WNDA3100, said to use patented 'metamaterial micro-antennas' to provide improved speed and range. The WNDA3100 offers 2.4GHz or 5GHz connectivity and is pitched at $99.99.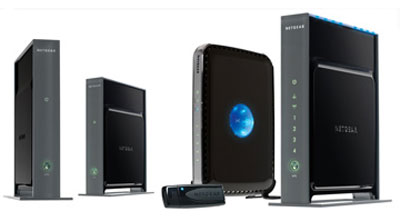 Official press release: NETGEAR Launches Next Generation Wireless-N Family of Networking Products