Linksys has launched its "first true gaming router" at Gamescom 2017. The new product is the Linksys WRT32X gaming router and it leverages a trio of technologies to earn those stripes, says the firm.
First and foremost the Linksys WRT32X incorporates networking technology from Rivet Networks, the company behind the well known Killer Networks sub-brand. The WRT32 is the only router on the market which has Killer Prioritization Engine (KPE) built-in. When combined with your Killer Network equipped PC or laptop (from the likes of Alienware, MSI, Gigabyte, Razer, Lenovo and others) gamers will benefit from up to a 77 per cent reduction in ping times, claims Linksys. The technology reduces lag and provides the advantage of "faster kills" claims the company.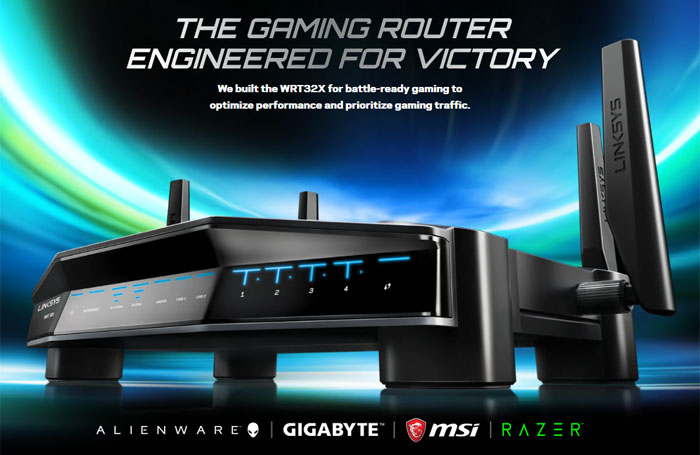 Vince La Duca, global product manager at Linksys, says that unlike rival company 'gaming router' efforts, the Linksys WRT32X isn't just "some 'gamer-bait' visual accents coupled with some smart marketing". It's exclusive built-in Killer Prioritization Engine (KPE) and other design optimisations are "built to deliver the best online gaming experience".
So what else, other than built-in KPE, is on offer here? The second of the trio of technologies designed into the WRT32X to provide the best gaming experience is a new Firmware and GUI, built from the ground up. According to Linksys "the core firmware level uses the latest stable Linux kernel version for a streamlined and lightweight code base with low latency as the top focus." You won't find this firmware on any other router and the GUI is said to be easy to use promoting the important network settings for gaming, to provide network usage statics, and designed in an 'edgy' attractive way for gamers.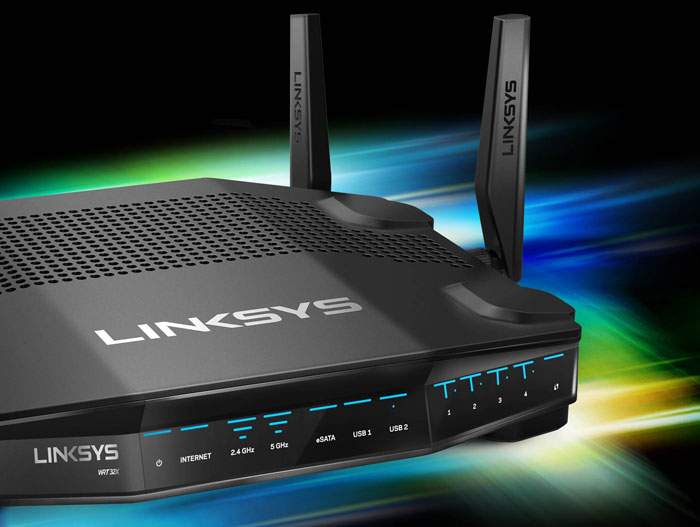 Those with PC-side Killer networking hardware will see a 'router' tab on Killer's Control Centre App when the WRT32X is attached. That makes it even more convenient to adjust settings if you feel the need.
Finally, to get all the above working smoothly Linksys has specified the WRT32X with "enterprise grade hardware". Inside the router you will find the following top of the line fast network enabling components: a 1.8GHz Dual-Core ARM CPU, 802.11ac Wave 2 Dual-band 3x3 wireless radio AC3200, 256MB Flash and 512MB of DDR3 Memory, and 5-port SOHO-grade Gigabit Ethernet switch with TCAM. Full hardware details are provided below.
Product Technical Specifications:
Wi-Fi Technology: AC3200 MU-MIMO
Network Standards: 802.11a/g, 802.11n, 802.11ac
Wi-Fi Speed: AC3200 (N600 + AC2600) ‡
Wi-Fi Bands: 2.4 and 5 GHz (simultaneous dual-band)
DFS certified for operation in the clear DFS channel airspace
5-port Pro-grade Gigabit Ethernet ports: 1x Gigabit WAN port, 4x Gigabit LAN ports
Other: One(1) USB 3.0 port, One(1) Combo eSATA/USB 2.0 port, Power
Antennas: 4x external, dual-band, detachable antennas
Processor: 1.8 GHz dual-core
Memory: 512MB DDR3 RAM / 256MB Flash
Wireless Encryption: WPA2 Personal
VPN Support: PPTP IPSec pass‐through
Storage File System Support: FAT, NTFS, and HFS+
Browser-based Setup and custom graphical user interface
Open Source ready for OpenWrt
The Linksys WRT32X is available for pre-order now from Amazon, BestBuy.com and Linksys.com and will begin shipping from 21st September, 2017. Later next month it will also roll out to stores such as Best Buy, B&H, Fry's, Micro Center, New Egg and Target with an MSRP of $299.99. UK residents will have to wait until October for the WRT32X to become available.