Introduction
Being connected to the web has taken on greater importance with many of us getting accustomed to working from home. A fast, reliable connection is key, and though the preference when setting up a home office is to run dedicated network cabling, it's safe to say that wireless is going to be the easier choice for most.
Hoping to realise that promise of simplicity, Rivet Networks, now wholly owned by Intel, has expanded the appeal of its Killer Wi-Fi 6 AX1650 module by making it available in a PCIe form factor. Priced at £45 and designed as a slot-in upgrade for any desktop with a spare PCIe x1 slot, the plug-and-play card offers a quick means of bringing Wi-Fi 6 goodness and speeds of up to 2.4Gbps to a compatible device.

Before we get to the card itself, we've been able to maintain an open dialogue with the Rivet team throughout the Intel acquisition, and have subsequently had the opportunity to perform a Q&A with Eric McLaughlin, vice president of the Intel Client Computing Group and general manager of its Wireless Solutions Group. Here's what Eric had to say:
Q: The current global pandemic has seen a rapid increase in the number of people working from home. How will the Killer acquisition help Intel's wireless business adapt to the evolving workforce?

A: This is indeed a new era for people who are adjusting to working from home and dealing with all the complexities associated with individuals and entire families working, educating, connecting, and playing remotely. One of the big reasons we purchased Rivet Networks was because their technology is complementary with Intel's wireless portfolio and builds on the experiences we are driving with Project Athena and our "always connected" PC platform efforts. While we can't go into details on future plans, the Killer Intelligence Engine is a great example of how Rivet Networks technology can be used to improve the connectivity and online performance of PCs and we are excited to see how we can utilize Rivet's technology in other areas to enhance user experience.


Q: Intel has stated that Rivet Networks "is a terrific complement to our existing Wi-Fi products." Though the emphasis is very much on Wi-Fi, what might Killer technology bring to Intel's wired products in the months ahead?

A: At the time of the acquisition we announced that we would be keeping both the Killer brand and the entire Killer product line and that still remains true. While Rivet Networks was acquired by Intel's Wireless Solutions Division, we are committed to deliver Killer's line of Ethernet products for high-performance gaming systems. My division works very closely with the Ethernet team and we are already working together to jointly utilize this technology to benefit Intel platforms. Killer's DoubleShot Pro technology, which enables Killer Wi-Fi and Ethernet products to work seamlessly together at the same time, is a great example of why we are committed to remain focused on Ethernet connectivity as well as Wi-Fi.


Q: Given that Rivet Networks and Intel were already closely aligned, what were the key factors in deciding to bring the Rivet team fully in house?

A: After working closely with Rivet Networks for several years and launching some really cool products together, we believed that Rivet Networks' capabilities and software are complementary to our products and technology. In addition, this acquisition gives us access to IP that is crucial to scale these capabilities across Intel platforms to drive the best connected user experiences via a talented intact engineering team, and a roadmap that is optimized for AI. Great connectivity continues to become more and more vital in today's environment as people learn to work, educate, and connect in different ways. Intel has always been about delivering the best connectivity experience for our platforms – the acquisition of Rivet Networks accelerates and enhances our ability to continue to deliver those experiences. Finally, we believe we are only scratching the surface of enhanced user experience with Rivet Networks' capabilities – we are already looking at how to do new things with deeper HW/SW engineering engagements, scale into other Intel segments like Project Athena and vPRO, deliver more seamless experiences across new radios like LTE/5G and Bluetooth, and working across multiple OS's.


Q: Will dedicated Killer hardware continue to exist, or can we expect a transition to Intel hardware with a Killer software companion? Similarly, will features such as the Killer Prioritisation Engine be brought across to existing Intel solutions?

A: The current plan is to stay the course with the vast majority of Rivet Networks solutions including Killer hardware products, and yes… as I mentioned we are looking at how to utilize and scale Rivet Networks' technology to scale our PC Wi-Fi portfolio to better serve our customers, ecosystem, and channel partners.


Q: The acquisition confirms that Intel values Rivet Networks' attempts to optimise our networks. What do you say to those who stubbornly view Killer optimisation as little more than a gimmick?

A:Well, to start with I can tell you that Intel wouldn't invest in something if we thought it was a gimmick – and frankly, our testing and multi-year experience with Rivet Networks solutions proves otherwise. The Killer solution is utilized in many of the most powerful gaming systems in the market today – and as you are well aware, milliseconds matter to high end gamers and Killer delivers that and more. One of the keys to understanding what Rivet Networks does is to fully understand the complexities that we deal with in a wireless network including multiple environmental factors. The capabilities Rivet provides are there to help anticipate and measure some of the most complex variables that occur and accommodate for them real-time to ensure a great user experience. Bottom line is that we are highly confident in this technology and what it will do now and in the future to deliver incredible user experiences for both wireless and wired connections.
It will be interesting to see how Killer technology evolves from here on in, as Intel clearly sees merit to the Prioritisation Engine that has so often divided users. We've discussed the potential merits of Killer's intelligent network optimisations in prior editorial, so for the purpose of this review we'll be focussing primarily on the AX1650 PCIe Card's ease of use and top-line speeds.
Easy Upgrade
Keeping things simple, there is nothing overly fancy about the card's design. Though Killer is traditionally associated with gaming, there's no lavish heatsink nor superfluous lighting, it is essentially just the Intel-based AX1650 module on a black PCB with two external antennas. There's a half-height bracket included in the bundle for installing the card in a low-profile slot, however it's a shame Killer doesn't include a stand and extension cables for the antennas - having them tucked around the back of the PC is rarely the best place for an optimal signal.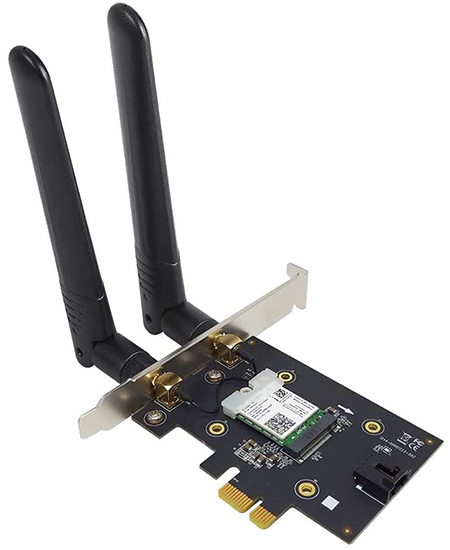 Installation takes a matter of seconds and on a Windows 10 PC the card was recognised and up and running without the need for any additional software. As a plug-and-play solution the AX1650 PCIe Card just works, but if you do want to take advantage of the Killer value adds, you'll need to download the applicable software package.
The latest release at the time of writing, v2.2.1471, provides easy access to all of Killer's key technologies. These include the aforementioned Prioritisation Engine, where latency-sensitive traffic is automatically identified and prioritised; Intelligence Engine, which helps ensure you're connected to the optimal access point; GameFast, to pause background processes and free-up CPU cycles when gaming; and Xtend, used to make the host PC act an extender for the home network.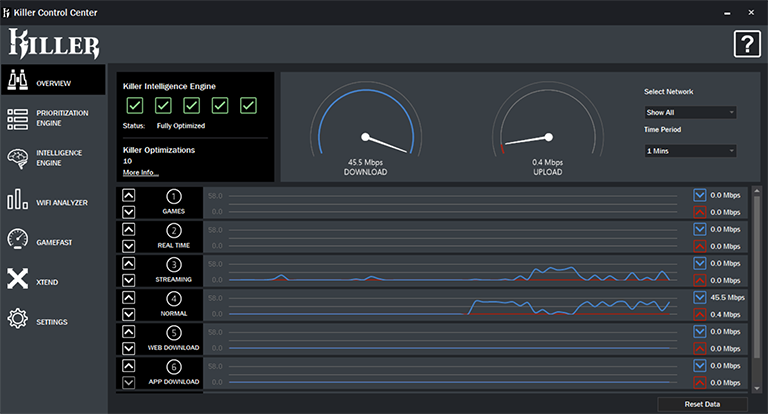 Whether or not you choose to call upon any of the above features is a case of personal preference, but should you favour a vanilla setup, you can still look forward to the benefits of Wi-Fi 6 with compatible hardware. Using the same 2.4 and 5GHz bands, the latest Wi-Fi standard supports the new WPA3 security protocol, bolsters MU-MIMO (multi-user, multiple input multiple output) and adds OFDMA (orthogonal frequency division multiple access) into the mix to optimise transmissions between multiple clients.
The end goal is to improve network efficiency among the growing number of Wi-Fi devices in our homes, though the usual caveat applies in that you will need a Wi-Fi 6 router to benefit. We've managed to get our hands on a Netgear RAX120 Wi-Fi 6 router for the purpose of our benchmarks, so let's run some numbers and see if wireless can beat wired.