ASUS Republic of Gamers has announced two new 27-inch gaming monitors featuring IPS display panels with 4ms response times and Nvidia G-SYNC technology. The PC, components and peripherals maker doesn't skimp on the screen resolutions, the ROG Swift PG279Q and PG27AQ offer 2K/WQHD and 4K/UHD visuals, respectively. Furthermore ASUS boasts that the 2K resolution PG279Q is the world's first display with a 165Hz refresh rate.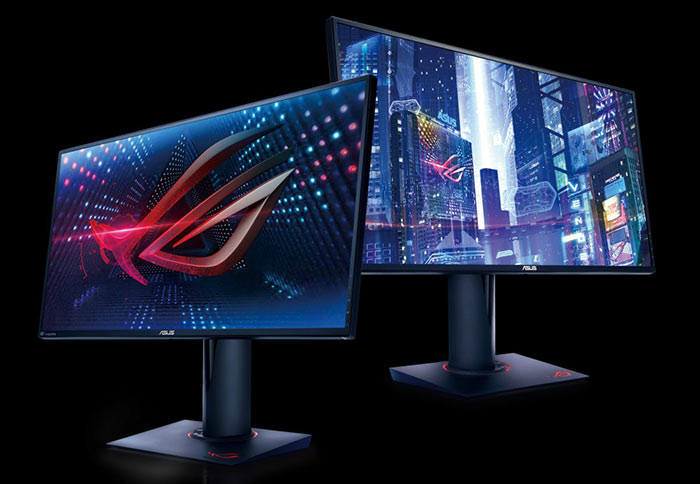 As mentioned above, this is a 2K/WQHD 2560 x 1440 monitor with a 27-inch diagonal. ASUS does the maths for you – the Swift PG279Q offers 109ppi, resulting in much finer imagery than a standard Full HD (1920 x 1080) screen, and provides up to 77 per cent greater desktop space. It's visuals cover the full sRGB colour gamut.
The standout statistic for this IPS panel equipped Nvidia G-SYNC monitor is its maximum refresh rate. The ROG Swift PG279Q refreshes the screen at up to 165Hz, which ASUS claims is a "word first", and should provide "unrivalled smoothness" in your gaming endeavours. The monitor can be manually toggled between 60, 120, and 144Hz refresh rates on the fly using a dedicated physical Turbo Key. ASUS says that you will need a GeForce GTX 960 or better to make use of the ROG Swift PG279Q's 165Hz refresh rate.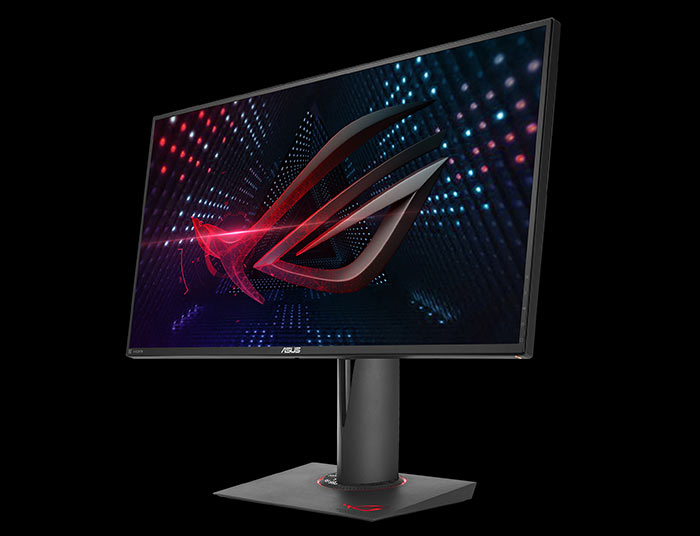 This is a 27-inch 4K/UHD (3840 x 2160) resolution gaming monitor, offering approximately 160ppi. The expanded desktop real estate on offer from such a monitor is equivalent to four standard 'Full HD' monitors combined. For colour fidelity the PG27AQ offers 1.07 billion display colours (10-bit) and covers the full sRGB gamut.
Both new monitors offer silky smooth gameplay possibilities thanks to Nvidia G-SYNC technology and feature a smattering of ASUS gamer-centric features. ASUS has equipped both monitors with its "exclusive GamePlus hotkey" to give gamers crosshair overlays, timer functions, and an fps counter. There are also a number of monitor profiles pre-set such as Scenery, Racing, Cinema, RTS/RPG, FPS, and sRGB. To protect your peepers over long gaming sessions you will be glad to know that the health-centric features of Ultra-Low Blue Light and Flicker-Free technologies are implemented in both monitors.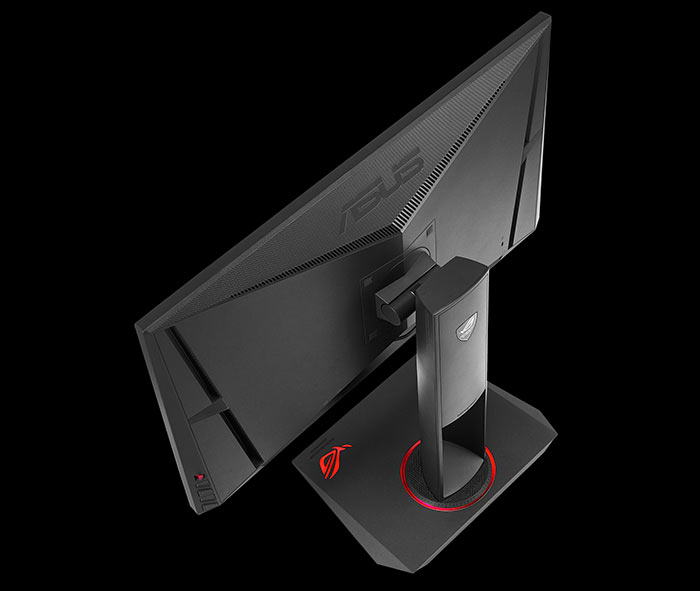 Other important features shared by the newly launched gaming monitors are; both DisplayPort 1.2 and HDMI connections, USB 3.0 hubs, stereo 2W speakers and 3.5mm headphone jacks. The stands equipped allow full tilt, swivel, pivot, and height adjustment but the monitors can be easily mounted to other stands etc via their VESA mounts.
The ASUS ROG Swift PG279Q will be available worldwide from October 2015, and the ROG Swift PG27AQ will be available worldwide from November 2015. Pricing is yet to be announced.