Samsung made headlines recently with its impressive mirror and transparent OLED displays, shown off at the Retail Asia Expo 2015. In other recent news it has been installing huge displays on the backs of trucks, so those stuck in traffic behind such juggernauts can 'see through' them. However the firm still finds time to develop 'normal', attainable products that appeal to PC enthusiasts.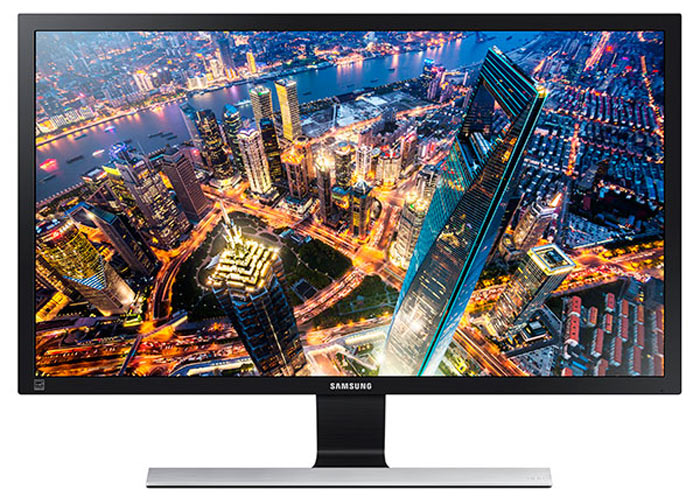 Samsung's first UHD monitors with AMD FreeSync Technology
The U24E590D and U28E590D are the first Samsung UHD monitors to use AMD's FreeSync technology. As a reminder, AMD FreeSync promises to give gamers a smoother more pleasant experience with minimal frame jumps and judders by dynamically adjusting monitor refresh rates to match your graphic card output capabilities.
Samsung's U24E590D 23.6-inch and U28E590D 28-inch monitors use PLS and TN panels respectively. As you might expect, one of the biggest impacts of the panel differences upon gamers is the response times on offer; the smaller monitor has a 4ms(GTG) response, the larger TN panel equipped U28E590D offers a 1ms(GTG) response time. The monitors also differ in maximum brightness and viewing angles.
Looking at commonalities, both monitors offer a UHD display (3840x2160) which is a big step up in pixel density and potential sharpness compared to FHD monitors at these sizes. Samsung has implemented picture-in-picture (dual input) modes, UHD upscaling, Eye-Saver, Flicker Free and various gaming modes in these FreeSync monitors. As usual the game modes offer various image level adjustments so you can see better in darker scenes for example.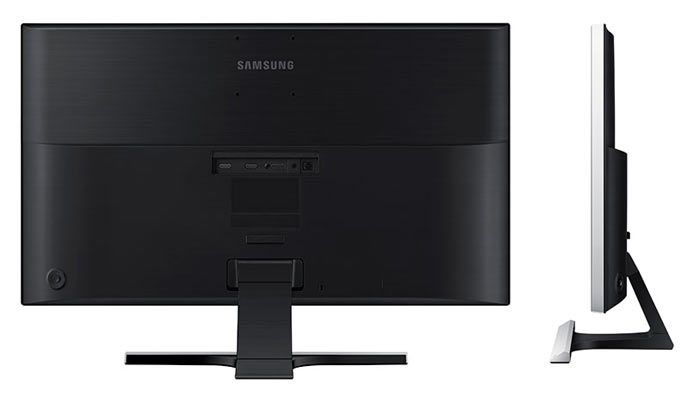 Both the monitors offer 2x HDMI(2.0x1, 1.4x1), 1x DP(1.2Ver) ports plus two free cables and an external power adaptor. The stand isn't very adjustable, offering just tilt, but the monitor can be attached to 75mm x 75mm mounts.
The 23.6-inch U24E590D is priced at $399 and will become available from 26th July. The 28-inch U28E590D is said to be available immediately at $599.
Attribute

U24E590D

U28E590D

Display

Screen Size

23.6" (16:9)

28" (16:9)

Panel Type

PLS

TN

Brightness

300cd/m2

370cd/m2

Contrast Ratio (DCR)

1000:1 (Mega ∞ )

1000:1 (Mega ∞ )

Resolution

UHD(3840x2160)

UHD(3840x2160)

Response Time

4ms(GTG)

1ms(GTG)

Viewing Angle (H/V)

178°/178°

170°/160°

Feature

Embedded Function

Magic Bright, UHD Upscale, Eco Saving Plus, PIP 2.0, PBP, Easy Setting Box, Image Size, Eye-Saver Mode, Flicker Free, Free-sync, Game Mode

Magic Angle, Magic Bright, UHD Upscale, Eco Saving Plus, PIP 2.0, PBP, Easy Setting Box, Image Size, Eye-Saver Mode, Flicker Free, Free-sync, Game Mode

OS Compatibility

Windows, Mac

Windows, Mac

Windows Certification

Windows 8.1

Windows 8.1

Interface

Interface

2 HDMI(2.0x1, 1.4x1), 1 DP(1.2Ver)

2 HDMI(2.0x1, 1.4x1), 1 DP(1.2Ver)

Eco

Energy/Environment Mark

Energy Star 6.0

Energy Star 6.0

Design

Color

Front/Rear : Black High Glossy /

Stand : Metallic (Deco-bar)

Front/Rear : Black High Glossy /

Stand : Metallic (Deco-bar)

Power

Type

External Adaptor

External Adaptor

Accessory

Cables

1 HDMI, 1 DP

1 HDMI, 1 DP