Corning is set to show off its impressive new improved version of Gorilla Glass at the CES 2013 in Las Vegas next week. The new toughened glass, predictably called Gorilla Glass 3, is "three times better at preventing serious scratches" according to a pre-launch report on c-net.
Gorilla Glass 3 improves upon its well respected previous iteration by making changes to the glass' atomic structure and internal bonding properties. David Velasquez, Gorilla Glass director of marketing and commercial operations, said that the company has been able to "invent another kind of glass", which is less brittle and less prone to scratching. It will require three times the amount of force to damage the surface of Gorilla Glass 3, Velasquez boasted.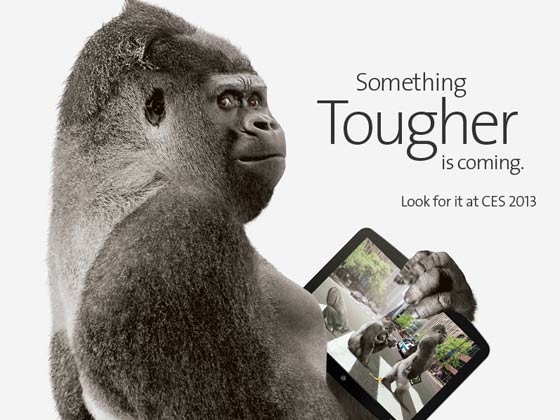 In addition to being more scratch-proof the new glass reduces "scratch visibility" by 40 per cent. Discussing the new screen structure's brittleness Velasquez claimed that Gorilla Glass 3's resistance to breaks is increased by a full 50 per cent.
Gorilla Glass 3 isn't scheduled for use on any smartphones, tablets or other devices as yet, but manufacturers such as ASUS and Samsung have taken samples of the glass to test on prototypes according to c-net. Corning's Velasquez said "You'll start to see new product announcements within a couple months after CES."
The rise in popularity of touchscreen smartphones and tablets has provided a great business opportunity for Corning, which previously majored in cookware products. In November the company announced it had provided Gorilla Glass based screens for over 1 billion devices.
Does any reader use a device with a Gorilla Glass screen without a screen protector?