A few days ago there were lots of speculative stories about the future iPhone 5 and flexible displays. A lot of the background information for these stories came from Apple patent applications. Shortly after there were a few stories around about LG working on Flexible OLED screens with pictures of what looks like a Kindle type of e-Ink screen. We featured that same picture in a HEXUS story about e-paper on 29th March this year.
News, and an image, over at The Korea Times now seem to shift the focus to Samsung as a provider of colour bendy OLED displays. Vice Chairman of Samsung, Kwon Oh-hyun revealed to the newspaper that they have "huge orders from electronics makers for it futuristic lineup of flexible organic light emitting diode (OLED) displays." Samsung and LG already compete to provide screens for Apple iOS devices and recently Samsung showed it was a better and more reliable supplier of Retina displays for the new iPad 3 tablets.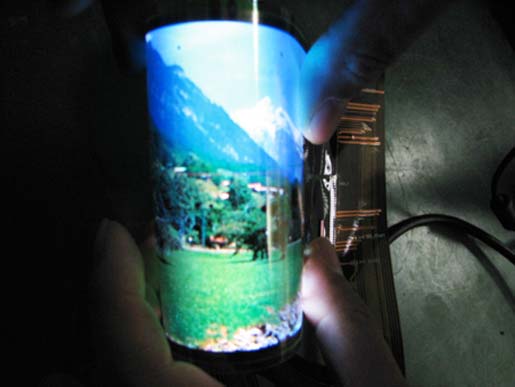 Samsung flexible OLED. Picture courtesy of The Korea Times.
The question is; who is ordering the huge number of flexible OLEDs from Samsung? Kwon is quoted to have said "We will be mass producing flexible OLED displays from the latter half of this year as the demand from our clients is significant." So even though Samsung might be using the flexible displays in upcoming products, that is not the statement focus, they are boasting of the significant demand from clients. Client names couldn't be extracted from the Vice Chairman during the interview.
The flexible OLED displays made by Samsung can "bend from the middle or from around the edge". This presents an idea of how the display might be used and will look. In The Korea Times report an unnamed analyst from a US investment bank said "it's hard to imagine Apple doesn't have something to do with it." How might a curved or bendy screen enhance a phone or tablet, does anyone have any ideas?