Sony's has confirmed that its futuristic head-mounted 3D display, dubbed the HMZ- T1, will launch in Japan later this year.
The device, first seen at CES back in January, will feature a pair of 0.7in, 720p OLED panels mounted directly in front of each eye, theoretically giving the user a viewing experience similar to that of a 750-inch screen from 20m away.
Sony Worldwide Studios exec Mick Hocking has suggested that the headset could signal a return to popularity for virtual-reality gaming.
"So we have our new HMD - or head-mounted display - which was announced at CES earlier this year, and you can see that we can now get back to where we really wanted to get with virtual reality in the '80s," said Hocking.
"Being in a virtual world where I can see my virtual hands or a virtual gun with all the things we can do in the gaming world is going to be absolutely amazing."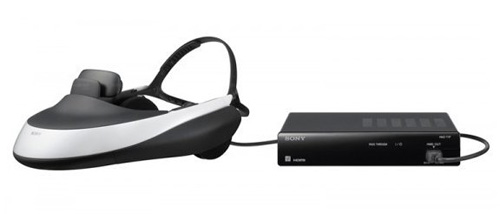 Aesthetically, the HMZ-T1 is similar to Nintendo's 3D Virtual Boy, an ill-fated, head-mounted games console that failed to release in Europe after a less-than-spectacular Japanese launch back in 1995.
The HMZ-T1 helmet and bundled processor unit - which allows users to optionally output to TVs using a HDMI connection - is set to hit Japanese stores at a cost of 60,000 yen (£480) on November 11th.
Source: Sony PR