The widespread adoption of VRR tech has been hampered by a rocky path strewn with expensive proprietary technology and competing standards. VESA and AMD tried to clear some rubble away with the analogous open Adaptive Sync / FreeSync standards. At the start of 2019 Nvidia redefined its G-Sync tech as a three tier certification system that included certain Adaptive Sync / FreeSync monitors that had passed a series of validation tests. The new G-Sync Compatible certification meant a lot more VRR monitor choice and new levels of affordability for GeForce GPU owners - but a reduced monitor feature set.

Now it looks like Nvidia will stray further from its pure G-Sync philosophy by allowing G-Sync module equipped screens to offer VRR support to AMD and Intel GPU users. A report by TFT Central contains confirmation from Nvidia that "future G-Sync module screens can be capable of supporting both HDMI-VRR and adaptive-sync for HDMI and DisplayPort".

TFT Central's spider sense was tingling after Acer recently introduced the Predator XB273 X. This very new monitor's specs, as listed on Taiwanese retail sites, suggested it would support HDMI-VRR and Adaptive-Sync over DisplayPort. Apparently Nvidia is preparing G-Sync firmware updates to make this a standard feature going forward.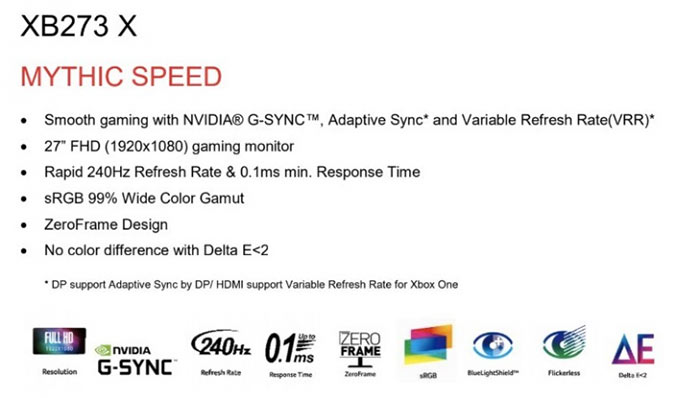 The unfortunate side to this story is that the firmware development looks set to only be applied in new and future G-Sync monitor designs. The source says that Nvidia says it "will NOT be possible to update firmware to any existing native G-Sync screen, or request updates to allow your current G-Sync screen to be updated so that it would work with AMD graphics cards".
When this change rolls out it will be positive that PC enthusiasts and gamers will have a freer choice of graphics card vendor and display type. It is probably safe to assume the move was mainly consumer demand and/or Nvidia G-Sync monitor making partner-lead.