MSI has gained a CES 2020 Innovation Award for an as-yet unannounced portable gaming monitor. Firstly, it is odd that a product gets spotted this way, and secondly it is hard to understand where the innovation is when Asus showed off its ROG Strix XG17 240Hz portable gaming monitor at Computex this summer.
The yet to be announced MSI Optix MAG161 isn't to be found in MSI's official product pages but the CES pages provide a few outline facts. The awards page says that the small form factor portable display features a "slim 5mm vibrant 240Hz IPS panel," and is great for gamers on the go. Connectivity is via both USB Type-C and HDMI interfaces 0 but that is all we know at this time for certain.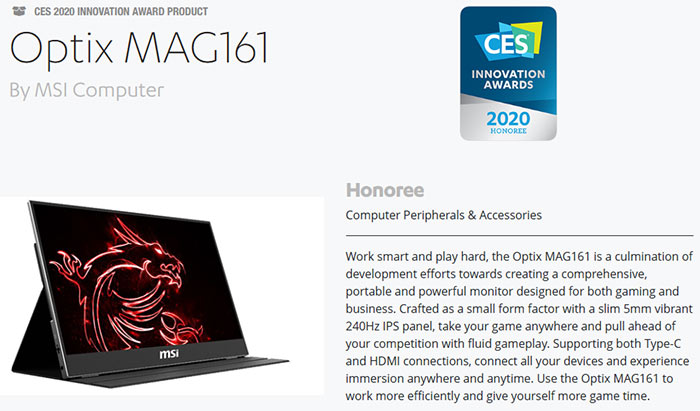 Spanish language tech site El Chapuzas Informatico seems to have a few extra morsels of info about the MSI Optix MAG161 but they may simply be educated guesses. For example it asserts that the portable monitor offers a 15.6-inch diagonal 1920 x 1080 pixels display and it has a response time of 3ms GtG. However, I have noticed that MSI's Optix MAG series of monitors include the screen diagonal in the name, so this should be a 16-inch diagonal screen based portable gaming monitor. It would be interesting to know more details, and concrete details, about the MSI's screen, power supply / battery, and more.
If the above supplemental info is correct then the MSI Optix MAG161 isn't just a clone of the Asus ROG Strix XG17 - as that is a 17.3-inch FHD screen packing device. Incidentally Asus has still to launch / price its ROG Strix XG17 portable gaming monitor.
If you are looking for the release date and price for the MSI Optix MAG161, it looks set to be launched officially during CES 2020 in January. Unfortunately I don't have any pricing details.