LG has launched a pair of attractive high resolution monitors aimed at Apple Mac and iPad Pro users. The new 27-inch UltraFine 5K display 27MD5KL and 24-inch UltraFine 4K Display 24MD4KL offer Thunderbolt 3 and USB Type-C support to connect to the Apple devices and can supply up to 94 watts of power to charge up your laptop or iPad while operating as a connected display.

The new LG 27-inch UltraFine 5K display is designed for the needs of creative designers, photographers and videographers. Its wide (16:9) 5K (5120 x 2880) IPS display is packed with detail (50 per cent more than a 4K display) and colour, boasting DCI-P3 99 per cent colour gamut and 500nits max brightness. Other interesting specs are its max 60Hz refresh rate, 14ms GtG response time, 1100:1 contrast ratio, plus the provision of a built-in camera, mic, and stereo 5W speakers.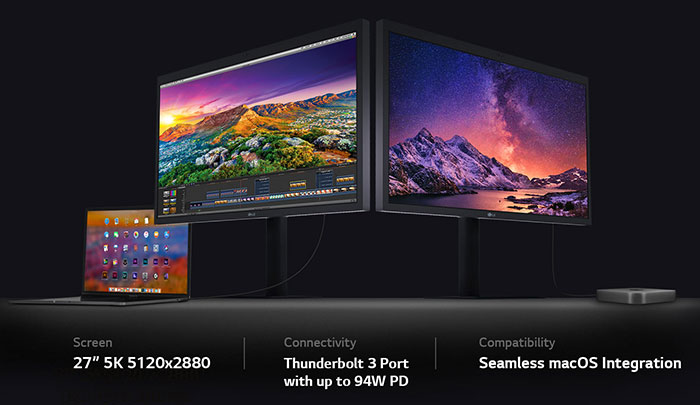 LG's 24-inch UltraFine 4K Display uses an IPS panel too. This 16:9 aspect panel has 3840 x 2160 pixels, and boasts DCI-P3 98 per cent colour. Again it has a max refresh rate of 60Hz and rather slow 14ms GtG response time. The 24MD4KL has a max brightness of 540nits and contrast ratio of 1200:1. It lacks the cam and mic of its bigger brother but seems to have the same stereo speaker specs.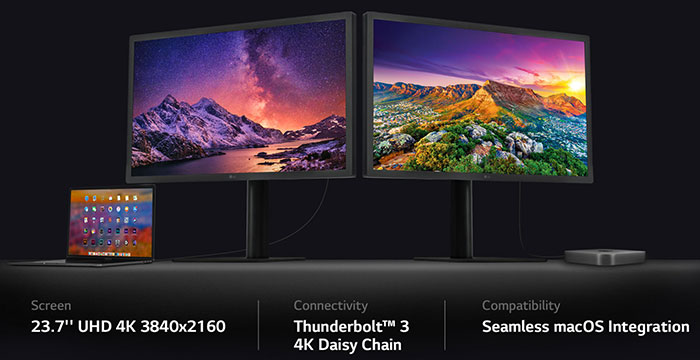 Whichever of the above you choose you will benefit from Thunderbolt 3 and USB Type-C support for image, data, and power delivery (up to 94W). LG sees this as a boon to Mac desktop, laptop and iPad Pro users. Furthermore, these monitors have been designed for compatibility with MacBook Pro Touch Bar controls. Connected to your Apple device, they will be able to auto-adjust the image according to the ambient light.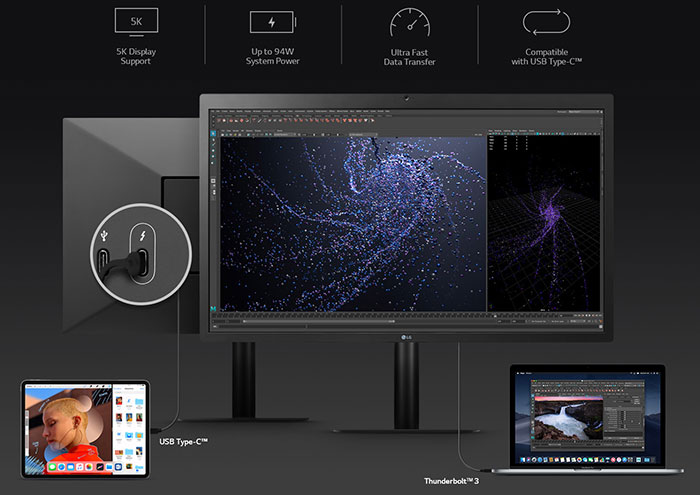 Both monitors feature a stand which offers tilt and height (110mm) adjustments, or can alternatively be used with a third party 100x100mm stand/wall mount.
LG says that the 27-inch UltraFine 5K is now available at select Apple stores and Apple.com.