Razer has launched its first ever monitor. The new Razer Raptor Gaming Monitor comes with a unique and appealing styling, in keeping with the usual Razer design language. First impressions from seeing this monitor are of its tiny 3-sided bezel design, showing the vibrant 27-inch IPS panel off very nicely. Around three sides of this display the (left, right, upper) bezels are a mere 2.3mm. Furthermore, the stand design dares to be different without offending (but the RGB base lighting would likely be permanently turned-off if this monitor entered Tyson Towers). At CES 2019 Razer showed off a prototype but assured with a non-woolly specs list, and estimated street pricing of US$699.99.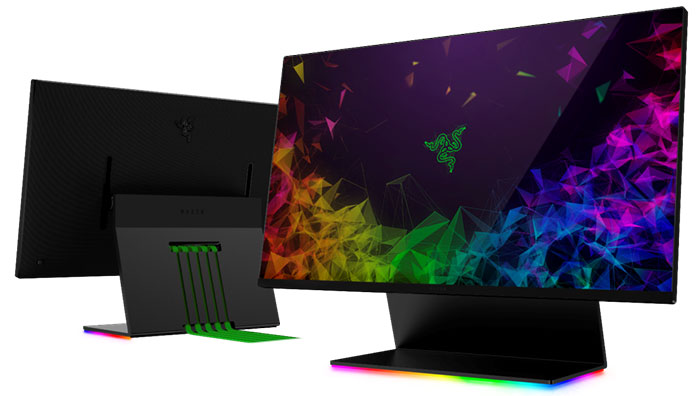 Getting to the heart of the offering, the 27-inch display is an IPS panel with a WQHD (2560×1440 pixels) resolution. Among its numerous qualities, this panel boasts decent response times (4ms) featuring 1ms Motion Blur reduction, and a refresh rate of up to 144Hz with AMD FreeSync compatibility. Furthermore, it is no slouch in the colour stakes with 95 per cent DCI-P3 wide colour gamut and support for HDR content. It comes calibrated from the factory and Razer will pre-program various profiles to meet various gaming and prosumer demands. For productivity enhancement Razer has enabled PiP and PbP input configurations.
Continuing with details about the externals, Razer says the Raptor Gaming Monitor is a matt black design with forget aluminium base (including Chroma LED strips) and the back of the panel is finished with a blend of fabric and metal. Connectivity includes 1 x HDMI, 1 x DisplayPort, 1 x USB-C with power delivery, and 2 x USB-A 3.1 ports. You will notice from the pictures that Razer has included signature green flat connection cables routed round the back of the stand, so any existing cable spaghetti you might own needn't spoil the look on your desk.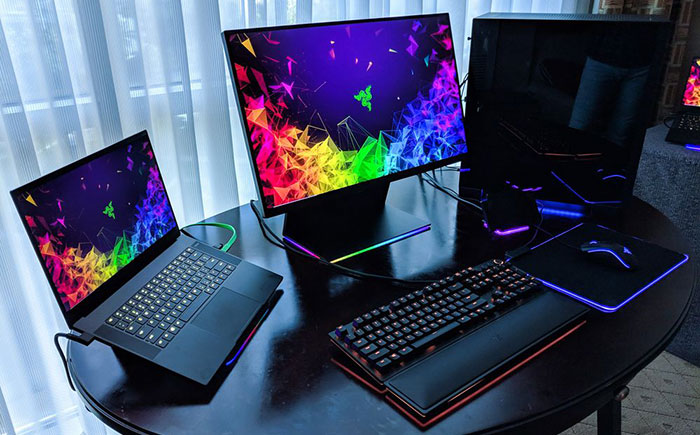 Specifications
Screen Size: 27 in.
Resolution: WQHD (2560 x 1440p)
Panel Type: IPS
Refresh Rate: 144 Hz
Response Rate: 4 ms with Overdrive, 1 ms with Motion Blur reduction, 7 ms typical
Gaming Modes: FPS / Racing / MMO Mode / Streaming
Viewing Angle: 178 Degrees (H/V)
Aspect Ratio: 16:9
Contrast Ratio: 1000:1
Brightness: up to 420 Nits
Colour Gamut: 95% DCI-P3
HDR: Yes
Height Adjustable Stand: Yes, w/ 90-degree tilt for easy port access
Connectivity: 1 x HDMI 2.0, 1 x DP 1.4, 1 x USB-C (supports DP1.4), 2 x USB 3.0 Pass Throughs
Included Cables: 1 x Power, 1 x HDMI, 1 x Display Port, 1 x USB-C (also supports DP and Power Delivery), 1 x 2 USB-A 3.1
Dimensions w/ Stand: 24.15″ (613.4 mm) W x 15.29 in. 19.23 in. (388.4 mm – 488.4 mm) H x 7.46 in. (189.4 mm) D
Weight w/ Stand: 25.4 lbs. (11.5 kg)
Earlier this week we reported that the Razer Blade 15 became configurable with up to RTX 2080 graphics. As well as the above monitor news, Razer has been quite active with its product announcements at CES 2019. Yesterday the gaming lifestyle firm announced Razer HyperSense, for example. HyperSense is described as "an ecosystem of interconnected haptic-powered gaming devices designed to deliver a cohesive and high-fidelity haptics experience for superior gaming immersion". In brief, it helps various sound and haptic vibration capable devices work in unison with your entertainment software experiences.
At CES, Razer has a HyperSense preview system which makes use of the Razer Nari Ultimate headset with positional audio powered by THX Spatial Audio, a mouse and mousemat with haptics by Lofelt, as well as a chair with haptics by SUBPAC.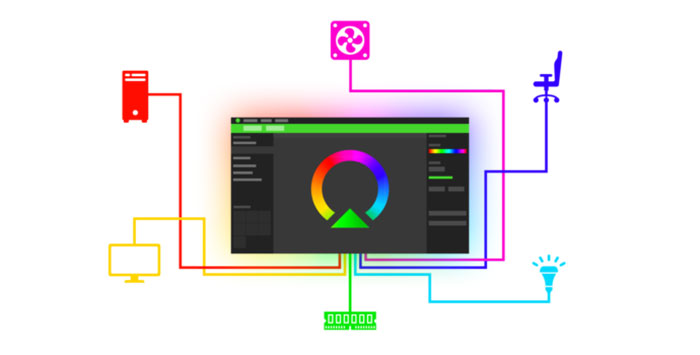 Other announcements from Razer at CES include the integration of Razer Chroma Connected Devices with Amazon Alexa. This will let you control Chroma lighting and some aspects of your PC using voice commands such as; "Alexa, ask Chroma to change my lighting profile to FPS mode," or "Alexa, ask Chroma to start Overwatch".
Another CES 2019 announcement from Razer was of a collaboration with Lian Li to create the Razer Tomahawk and Razer Tomahawk Elite chassis. You can read more about that in the linked official press release, and watch the promo video below.