Nvidia announced its upcoming Big Format Gaming Displays (BFGD) back at CES 2018 in January. It sought to address the issue facing gamers attracted by huge new tellies - which are OK for movies but simply aren't up to the job for PC owners as they "lack high refresh rates, low latency , PC-tuned HDR, and G-SYNC variable refresh rate technology," (they usually don't often have Adaptive Sync either). On the same day Asus announced that it it was readying the ROG Swift PG65 BFGD.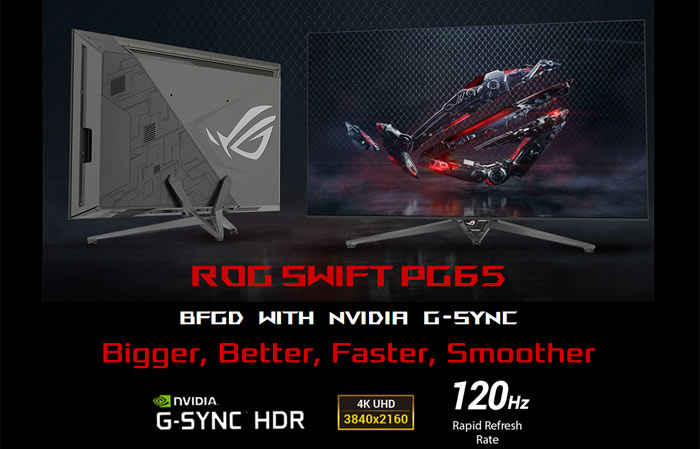 Asus has now prepared and uploaded its official ROG Swift PG65 product pages. At the time of writing the overview section looks complete but the specifications tab is unpopulated - it's blank. However, it does remind us of the greatest attractions of a BFGD and provides some nice views of the monitor.
Giant 65-inch gaming monitor with Nvidia G-Sync HDR and variable refresh rate of 120Hz+
Ultra-low latency at 4K UHD (3840 x 2160) resolution and wide viewing angle panel, with a wide DCI P3 colour space
Direct-lit LED backlight with 1000nits for an even higher contrast on HDR content
Integrated Nvidia Shield -The World's Most Advanced Streamer with video, gaming, voice control and smart home command capabilities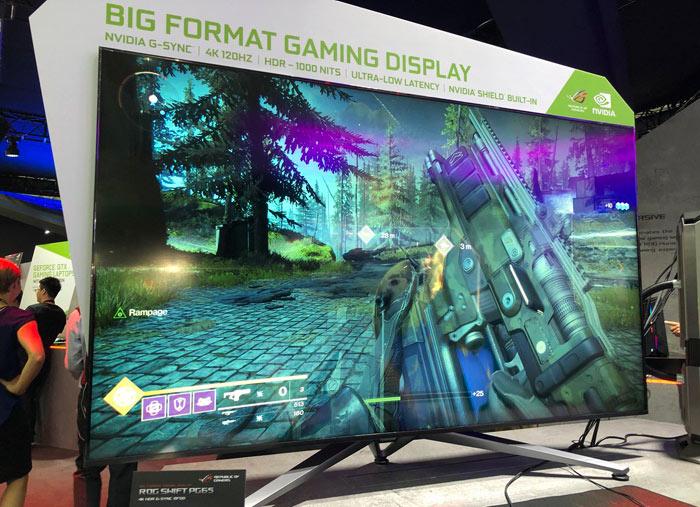 With Asus readying its product pages, at last, we must be much closer to availability than last time we reported upon these monitors. Remember, the smaller G-Sync HDR monitors have only just started rolling out, with their expensive components, so it is understandable that BFGDs will perhaps be even later to market.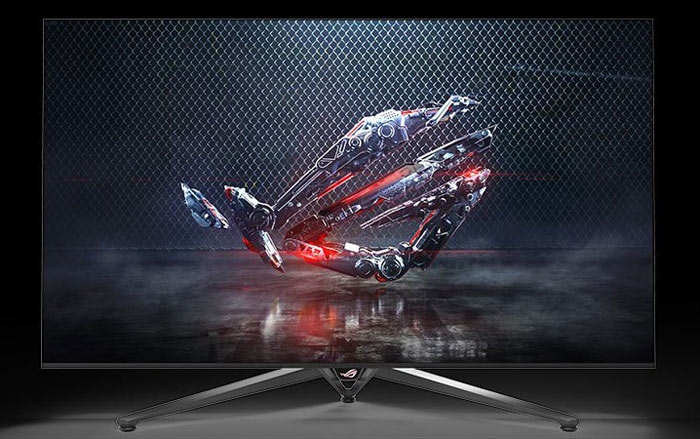 Given that the 27-inch Asus ROG Swift PG27UQ costs a pound shy of £2,300 in the UK, the pricing for the 65-inch ROG Swift PG65 will likely melt your wallet. Unfortunately, at the time of writing, we don't have confirmed pricing or availability.
Remember, other brands will be launching their own BFGDs. In our Computex video coverage we saw HP present its Omen X 65, and it is known that Acer is rustling up a Predator BFGD too.