There's something intrinsically manly about owning something large, right?

That line of thinking is echoed by the world's major TV manufacturers, it seems, as the annual race to produce the largest flat-panel television is duked out by the likes of Samsung, Sharp, LG and Panasonic.

We saw the 100-inch LCD barrier crossed just a couple of years ago, and Sharp took top LCD honours with its 108-inch behemoth during CES 2007.

Now, though, Panasonic has stepped up to the rather large plate and unveiled a plasma display that measures a whopping 150 inches, as measured diagonally. That's over 12 feet, dear reader.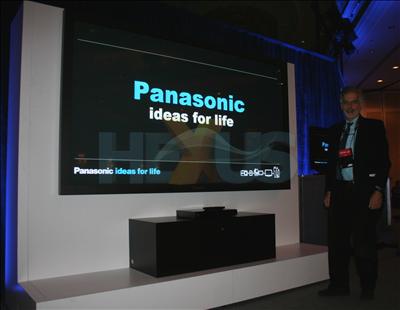 We managed to convince a random man to stand next to the TV. Yes, it's big. It'll feature the usual full-HD gubbins and company-specific nomenclature that highlights various sound- and picture-enhancing features.

No word on price but rest assured that it will cost a lot. We wonder when Wayne Rooney and his brigade of super-rich twenty-somethings will buy one.

All HEXUS CES 2008 content