Oculus price cuts
Oculus has announced price cuts for the Oculus Rift head mounted virtual reality headset and accessories. When the headset was launched, expectant enthusiasts were a little put out to discover its retail pricing. In 2014 we were told by Oculus CEO Brendan Iribe that his firm, thanks to the resources and wealth of new owners Facebook, would likely sell the HMD at "the lowest cost possible", aiming for mass market penetration. Today definitely isn't setting up the Rift HMD as a loss leader, but every little helps.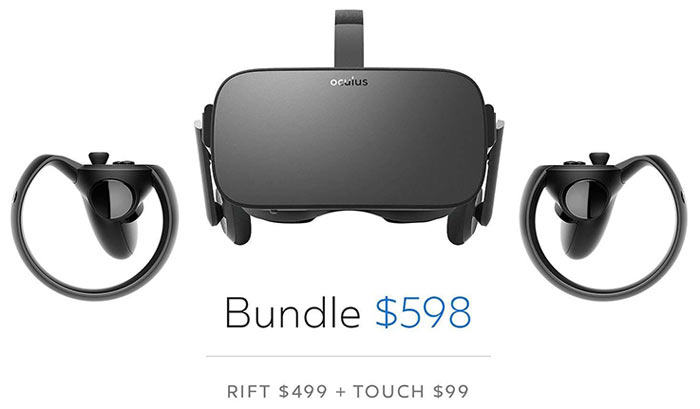 The price cuts come to mark the one-year anniversary of Rift first shipping. I've bullet pointed the price cuts detailed by the US-centric blog, and inserted alongside the new super-weak GBP pricing in brackets.
Oculus Rift plus a pair of Touch controllers: Was $798, now $598 (£598)
Oculus Touch controllers: Launched at $199, now $99 (£99)
Oculus Sensor (additional): Was $79, now $59
Previously the Oculus Rift HMD was sold alone at $598, so in effect the Oculus is bundled with a pair of free Touch controllers at this price level. In other good news for those interested in Oculus Rift, Epic Games' Robo Recall is now free on the platform.
LG's SteamVR Headset
UploadVR got hands-on time with the upcoming LG VR headset powered by Valve's SteamVR Tracking technology. To be clear this is a prototype unit on show at GDC but it still features design refinements such as being able to flip up the display portion like a visor. The tech specs are impressive, and detailed as follows:
Two panels (one for each eye) with a resolution of 1440 x 1280 each
OLED display from LG
3.64-inches diagonal
90Hz refresh rate
110 degree FOV
Interestingly an UploadVR journalist tested LG's headset for 6 minutes or so and didn't really feel any benefit from the higher res or FOV specs compared to the HTC Vive or Oculus Rift (with their 1080 x 1200 pixel displays).
According to an LG engineer on hand, the upcoming SteamVR compatible headset will be roughly the same price as rival hardware. Watching the video above you will also see and hear about the LG designed VR controllers.