MSI has announced that all of its current MSI 100 series chipset motherboards are ready to support next gen LGA 1151 socket processors. It is of course referring to the upcoming Intel 7th Generation Core processors, also referred to as Kaby Lake processors.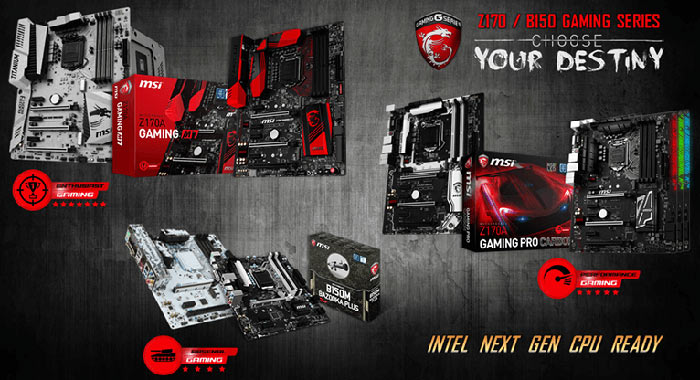 Intel launched its 7th Generation Core processors exactly a month ago – but only for laptops and other compact form factor devices. That first release of Kaby Lake processors was of the Y-Series and U-Series chips. We don't have an exact date for the launch of Kaby Lake CPUs for desktops but it is generally thought that these chips will launch and become available in January. So it looks like we still have a three months plus wait for desktop Kaby Lake CPUs.
Nevertheless, it's great to see a major motherboard manufacturer get all their current modern motherboards ready for Intel's next generation processors in advance. MSI says that all the BIOS updates are now made available for download via the official MSI support website. The new BIOS files bring "better performance and compatibility using the latest Intel processors with better specification and higher frequencies" says MSI.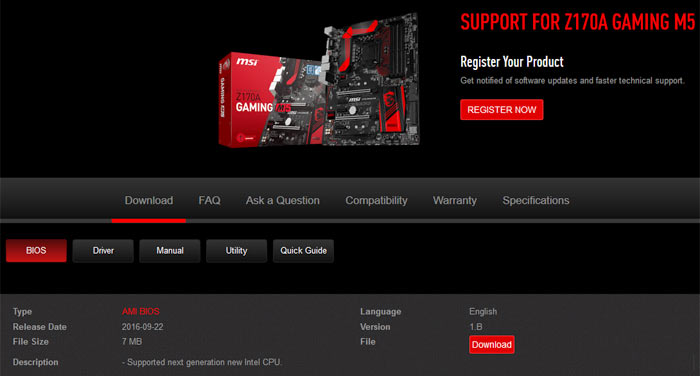 I don't have an MSI motherboard but downloaded one of the new BIOS files, apparently updated on 22nd Sept, to see if there was any further information in the traditional accompanying 'readme.txt' file. All the release note said was "This BIOS fixes the following problem of the previous version: Supported next generation new Intel CPU." (This was for the MSI Z170A GAMING M5 - see pic above).
The full list of Kaby Lake supporting motherboards with the new BIOS update file downloadable is embedded below. With the compatibility being the only addition to this BIOS file I would probably wait until I had bought a Kaby Lake chip, in January or beyond, before applying any of these BIOS updates. Looking at the frequency of BIOS updates for the GAMING M5 it (and other models) could easily receive another BIOS update by that time.