About a year ago HEXUS reviewed the Asus Z170 Pro Gaming motherboard. Today Asus has emailed us to let us know that it has updated this motherboard with "Sweet Aesthetic & Awesome Features & Functions". The new Asus Z170 Pro Gaming/Aura has been improved in this iteration with Aura LEDs, Safeslot, and the "world's first 3D-printing-friendly" design.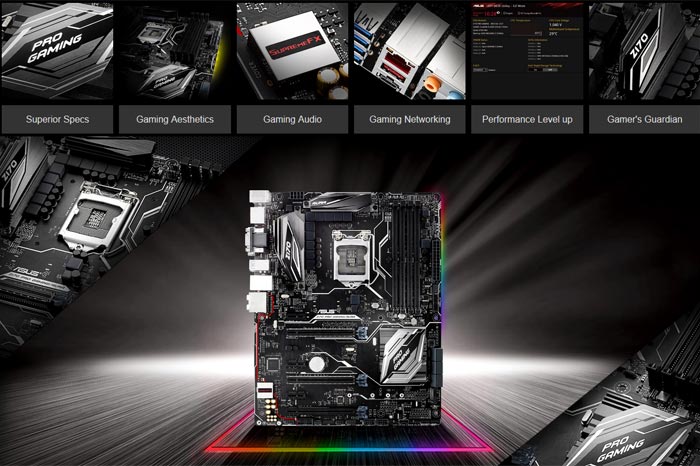 The official highlights of this refreshed Skylake motherboard are as follows:
LGA1151 socket for 6th-generation Intel Core i7 / Core i5 / Core i3, Pentium and Celeron processors
Dual DDR4 3466 (OC) support
True gaming aesthetics: 3D-printing friendly and Aura RGB lighting
Easy and stable overclocking: Pro Clock technology, 5-Way Optimization and 2nd-generation T-Topology
SupremeFX: Flawless audio that makes you part of the game
Sonic Radar ll: Scan and detect your enemies to dominate
Top-speed protected networking: Intel Gigabit Ethernet, LANGuard and GameFirst IV
RAMCache: Speed up your game loads
Ultra-speedy transfers for faster gaming: USB 3.1 Type-A/C & M.2
Gamer's Guardian: SafeSlot, highly-durable components and smart DIY features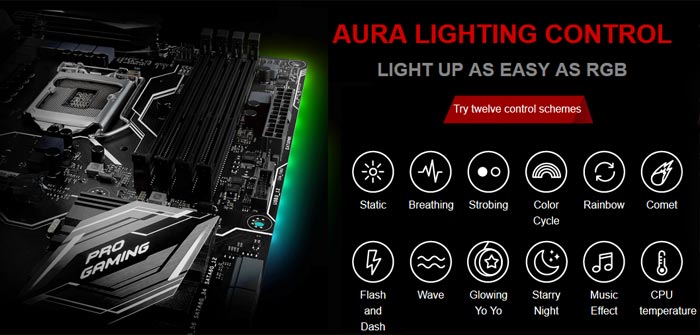 Zeroing in on the new features, one of the headlining additions is of Aura RGB lighting. With this addition the Asus Z170 Pro Gaming gets 12 different lighting schemes, customisation of these schemes, plus the ability to sync with other Aura-compatible gear.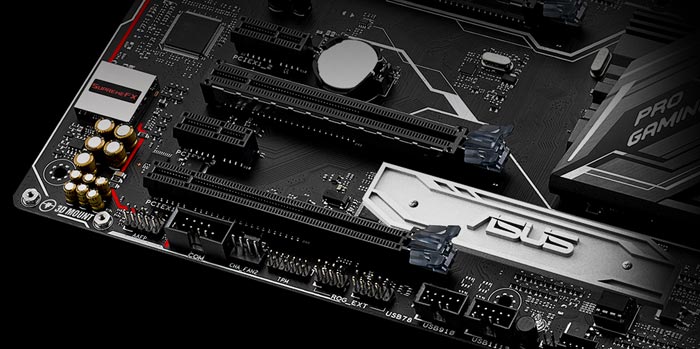 Another strongly emphasised new aspect of this motherboard is its claim to be "the world's first motherboard with a 3D printing-friendly design". Asus suggests that users "Create colour-matched custom nameplates, and then illuminate your passion with Aura". Parts you print are fitted to the board via M.2 nuts and thus seem to occupy an empty M.2 socket. Form the pictures it also looks like you can 3D print a bit of motherboard 'armour'.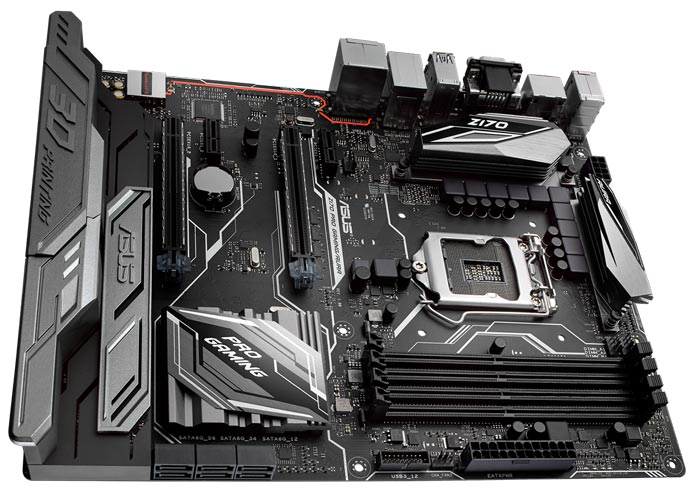 The final new feature in this update is the provision of a "reinvented" PCIe slot called the Safeslot. This is simply a PCIe slot for your graphics card that has been reinforced and engineered to provide superior retention and shearing resistance. Asus says that this patent pending slot design uses a new injection moulding process to meld the slot and the fortifying metal construction.
Full specifications of the updated motherboard can be found via the official product page. Asus told us that UK enthusiasts can pre-order the Z170 Pro Gaming Aura, with an SRP of £145.99, straight away.