There has been talk about Intel pushing motherboard vendors to remove the overclocking of non-K Skylake processor capabilities from their feature lists. Now we have seen the first evidence of this pressure, as ASRock's previously proud as a pimple SKY OC feature has been unceremoniously popped in a BIOS update that appeared yesterday.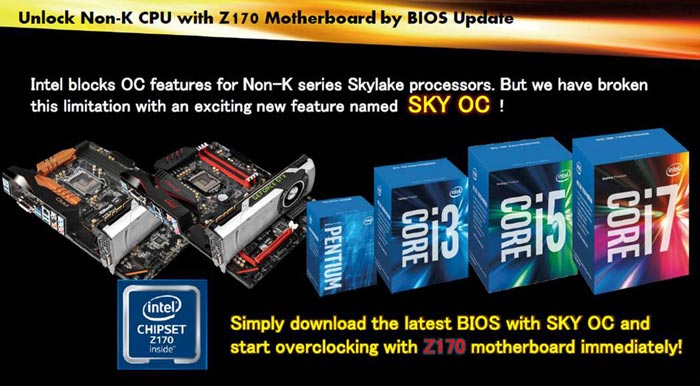 HEXUS reported on non-K Skylake OC capabilities becoming available on ASRock, MSI, Biostar, ASUS and Gigabyte motherboards back in December last year. Of these ASRock really made the most out of the feature, heavily promoting it in a blog post, Facebook feature and infographic etc (as evidenced above). Biostar promoted and branded their non-K overclocking as HyperOC, but the other vendors were more low-key.
The performance uplift possible via this BCLK overclocking method could be impressive. In preliminary tests an overclocked Core i3-6100 performed faster in Cinebench than the Core i5-4430, even when all four cores were being 100 per cent utilized. In many other tests, including gaming, these two processors were often neck and neck - that's obviously not an appealing comparison for Intel which charges considerably more cash for its i5 chips than their i3 bretheren.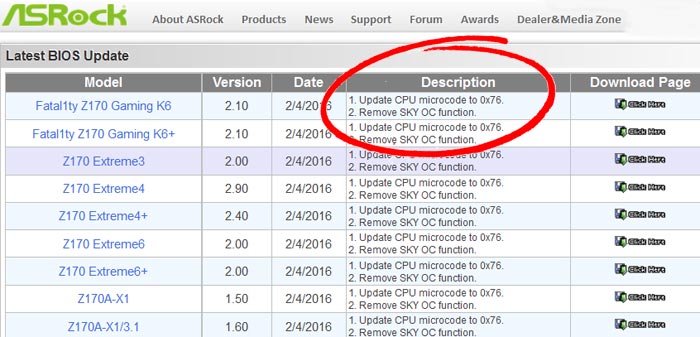 So what many have expected to happen now seems to have transpired, if the ASRock BIOS updates from yesterday are any indication. As you can see from the BIOS update page, or the screenshot above, ASRock has updated its Intel Z170 motherboards with two tweaks; 1. Update CPU microcode to 0x76, and 2. Remove SKY OC function. There is no explanation of either tweak in a BIOS read-me file or similar, or any blog or social media post. An earlier BIOS update from ASRock, just a fortnight ago, included a microcode to fix the Skylake complex workloads bug. Older BIOS versions remain on the ASRock website.
It will be interesting to see if other motherboard vendors, especially those that actively promoted the BCLK overclocking feature, provide some background to the removal of the feature in subsequent BIOS updates.