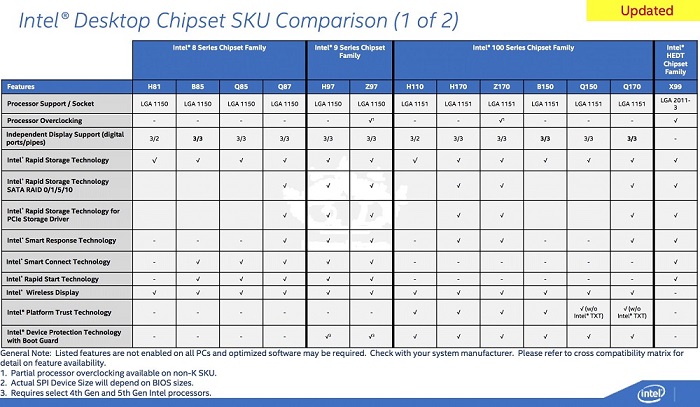 In the past week we've heard that Intel's desktop CPU plans entail the release of Broadwell CPUs for the existing LGA1150 platform as well as Skylake CPUs onto the new LGA1151 platform, both in quick succession. The new LGA1151 socket brings with it a new chipset series, the 100-Series, which has been fully detailed in a recently published leaked.
The 100-Series from Intel succeeds the current 8 and 9-Series as the company's latest mainstream chipset. The 100-Series includes six chipset models - H110, H170, Z170, B150, Q150, Q170. These all have direct predecessors to Intel's present mainstream chipset offerings which are a blend of 8- and 9-Series SKUs.
The most fully-featured chipset is the new flagship Z170, which succeeds Z97. Compared to its predecessor there are an additional four USB 3.0 ports on offer as well an upgrade to 20 PCIe Gen 3.0 lanes. In effect, the PCIe bandwidth available has increased five-fold from 32Gb/s to 160Gb/s due to the addition of 12 more lanes and an elevation to Gen3.
Those extra chipset lanes are in addition to the 16 PCIe 3.0 lanes that are integrated onto the CPU die directly. These CPU lanes facilitate electrical configurations of x16 or x8/x8, or x8/x8/x4 on Z170, but all other chipsets only allow for a single x16 solution. On the subject of CPUs, Z170 is the only chipset that will officially support CPU overclocking.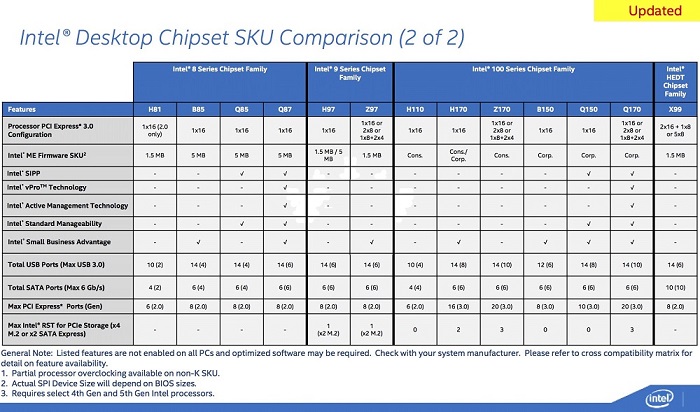 H110 and H170 succeed H81 and H97, respectively, and neither of these chipsets have CPU overclocking support. The H170 is more generously equipped in the storage and PCIe departments offering 14 USB ports with up to eight USB 3.0, six SATA 6Gbps ports and 16 PCIe 3.0 lanes. The H110 chipset has half the number of USB 3.0 ports, two fewer SATA ports and retains the same six PCIe 2.0 lanes as H81. H170 also packs Intel's Small Business Advantage (SBA) as well as support for Rapid Storage Technology (RST) on two PCIe storage devices; H110 has neither of these.
The remaining trio of chipsets - B150, Q150 and Q170 - feature a mixture of USB, SATA and PCIe upgrades compared to predecessors. All three chipsets are geared towards business users with support for SBA while the Q150 and Q170 have compatibility with the Intel Stable Image Platform Program (SIPP). Q170 is the only chipset to fully comply with Intel's vPro package of technologies which includes Trusted Execution (TXT), Virtualization (VT) and Active Management (AMT) technologies.
The broad point to take away from the leaked specifications is that Intel is taking a significant step towards beefing up PCIe-based storage technology by increasing the number of PCIe lanes available through the chipset. This should allow motherboard vendors to introduce multiple M.2 and SATA Express ports while still having enough PCIe lanes available to keep all motherboard PCIe slots active when everything is populated. Those extra PCIe lanes will also be useful for third-party SATA, USB and network controllers, all of which require PCIe links.