Earlier in the month we heard about Nvidia's virgin voyage to the courts to sue Samsung and Qualcomm over graphics patents. Now we have learned that ASUS is about to get the lawyers in, to defend its latest motherboard OC Socket technology.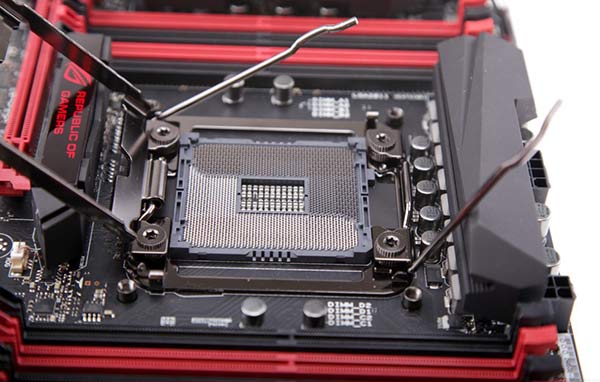 DigiTimes reports that Asustek Computer (ASUS) is concerned about Taiwanese rivals such as ASRock, Micro-Star International (MSI) and Gigabyte Technology infringing upon its patented technologies. ASUS launched a new in-house-developed OC Socket to complement its latest Intel X99 chipset motherboards and found that various rivals have followed rather too closely in its footsteps.
It is said that ASUS has undertaken an investigation into what it considers to be infringements and it has discovered evidence to suggest that "supply chain makers leaked confidential OC Socket designs to competitors".
With the fierce competition for motherboard sales, and vendors creating the most attractive differentiating features as they can, it is understandable that ASUS intends to sue to put a stop to IP poaching by its rivals. Right now nothing official has been come out - just this DigiTimes report. So we will have to wait and see if there is any impact on X99 motherboard availability from ASUS rivals.
ASUS's exclusive OC Socket adds extra pins to the CPU socket to eke out the best performance it can. ASUS explains that "Haswell-E (Intel Core i7-5960X, 5930X and 5280K) processors actually have more pads than the reference LGA2011-3 socket design, so ASUS added extra socket pins to tap this resource. OC Socket is an enhancement based on the reference LGA2011-3 design, so for users not overclocking or tweaking voltages in the BIOS, OC Socket does not activate. However for those that do overclock and tune performance, there's significant benefits." See the comparison picture below.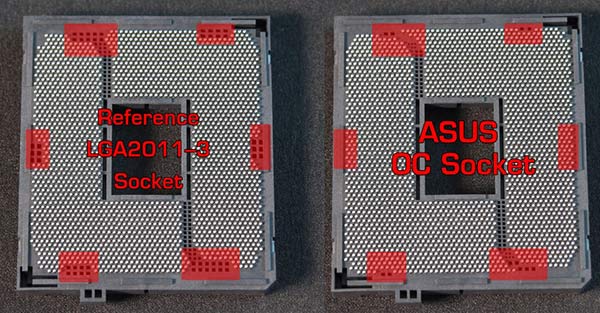 Incidentally, the last time ASUS was in HEXUS legal news was back in 2011 when Hasbro sued it, in the LA federal court, for use of the 'Transformer Prime' name without prior consent.