We're feeling a lot of love for AMD's Fusion here at CES 2011. Today, it's Sapphire's turn to show its hand and it's dealing out the Pure White Fusion E350 motherboard.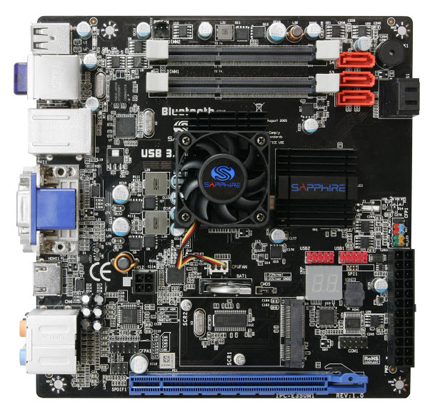 The board, pictured above, is the second mini-ITX Fusion-based solution to be announced this week and is showing plenty of small-form-factor/HTPC potential.
Like the Gigabyte alternative, Sapphire's Pure White Fusion is based on AMD's Hudson chipset and sports a dual-core 1.6GHz Fusion E-350 processor - which, as we're sure you know by now, features integrated Radeon HD 6310 graphics.
The 18W TDP chip makes this an ideal low-power platform for mini PCs, and the DX11 GPU will have no trouble in serving up high-def multimedia. Sapphire's board can output at full-HD over HDMI, DVI or VGA and supports up to 4GB of 1,066MHz memory through a pair of SO-DIMM slots.

We prefer Gigabyte's use of standard DDR3 DIMM slots, but Sapphire's board does have a few extras. Five SATA 6Gbps connectors are available (as opposed to four on the Gigabyte), Bluetooth connectivity is built in, and in addition to the PCIe x16 slot (that runs at x4), there's also a Mini PCIe x1 connector. The latter could be useful is you want wireless networking, but if not, the board's Gigabit Ethernet, eSATA and USB 3.0 connectivity should have your data transfer needs covered.
There's still no mention of pricing or availability, but a detailed specification is available at sapphiretech.com.