As IDF rages on, Intel has announced a few new embedded CPUs that will be joining the Atom family. The CE4200 is destined to makes its way into consumer electronics such as set-top boxes, while the E600 family will provide a more general-purpose, low-power solution.
Atom CE4200
As the follow-up to the established CE4100, the CE4200 is a consumer-electronics chip that will make its way into connected devices focused on media playback and web integration. Codenamed Groveland, the new SoC integrates an H.264 encoder and should allow seamless streaming and transcoding between multiple different devices.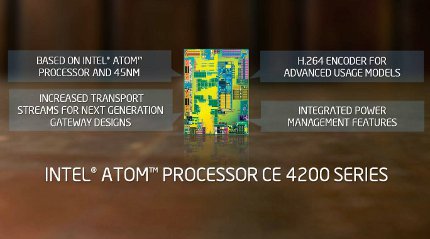 Unfortunately, Intel didn't go into much more detail on the 45nm processor, though it may be because the platform is still some way off. Its predecessor was announced at IDF last year and is just now starting to appear in retail set-top boxes - like the Boxee Box. Nonetheless, partners including Samsung, ADB, Technicolor and Sagemcom are said to be developing devices using the chip.
Atom E600-series
Intel also talked about the E600 family of processors, previously known as Tunnel Creek. This SoC is designed for use in a wide range of embedded devices, including in-car 'infotainment' systems, Internet phones and smart-grid devices. Accordingly, the chips are designed with flexibility in mind and can be paired with a variety of different I/O hubs, depending on the application.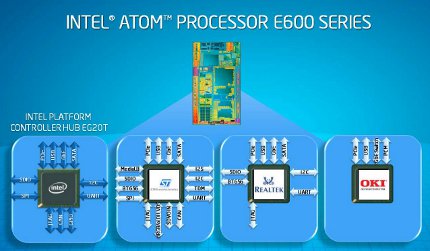 Diving more into the nuts and bolts, the SoCs will integrate a PCI Express controller on-die, a 400MHz graphics-core and support for HD video encoding and decoding. Clock speeds will range from 600MHz to 1.6GHz, with power-draw somewhere between 2.7W and 3.9W for the processor and 1.55W for Intel's controller hub.
Lastly, the company talked briefly about the Stellarton-based Atom chips, which should arrive in the first half of next year. Based on the E600 architecture, these SoCs will be highly configurable, allowing partners to tune the processor design to specific usage scenarios. As an example, Intel showed an Atom paired with an Altera Aria FBGA chip at IDF.