Inno3D has announced today that it's "ready for ION" by sending out a promo for its upcoming ION-based mini-ITX board.
Exactly how ready remains questionable, though, as the board doesn't yet appear to have been named. We caught a glimpse of it earlier this month at COMPUTEX, and it seems the board will now be branded as part of Inno3D's iChiLL range.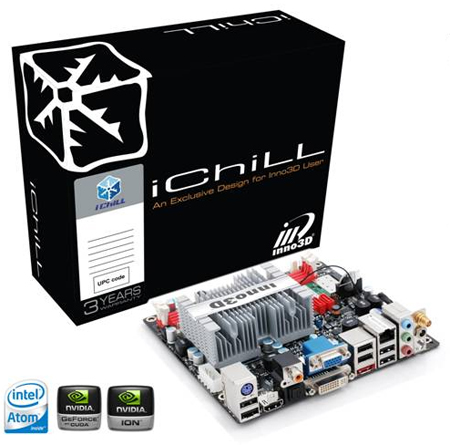 As noted previously, Inno3D's board makes use of a reference design and consequently mirrors what's on offer from other NVIDIA partners such as ZOTAC.
We've yet to hear of confirmation of models or pricing, but we'd expect the board to ship in two flavours - one featuring an integrated single-core Atom N270 processor, and another sporting an integrated dual-core Atom 330.
NVIDIA's ION chipset brings with it a GeForce 9400m IGP, with a GPU clocked at 450MHz and 16 stream processors clocked a 1,100MHz. The board provides two DDR2 DIMM slots, supporting up to 8GB of 667MHz/800MHz RAM, and is bundled with a 90W external power supply.