Walking around the halls at COMPUTEX '09, you could easily be fooled into believing that it's an Intel P55 world - as far as motherboards are concerned, at least.
However, that's anything but the case, as AMD's 785G chipset is making a strong showing for the competition. The chipset isn't due at retail until the third quarter of 2009, but making our way past J&W's stand revealed an early 785G board sitting out on display.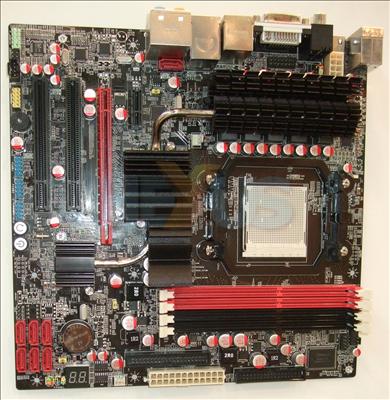 Supporting socket AM3, the 785G + SB750 chipset utilises the best of AMD's Phenom II and ATI's Radeon HD 4200 IGP. The latter is believed to be clocked at 500MHz, and as a Radeon HD 4000-series product, it brings with it support for DirectX 10.1 and UVD 2 - all tucked away neatly on the northbridge.
J&W's board - dubbed the JW-785GXM-EXTREME - provides HDMI, DVI and VGA outputs, as well as Gigabit Ethernet, eSATA, and FireWire connectivity. Looks a useful solution, but what we'd really be interested in seeing is AMD's 785G chipset shoehorned into a mini-ITX form factor. In the value space, such a board coupled with a Phenom II processor could be mighty useful.