EVGA - one of NVIDIA's best known motherboard partners - has today announced its X58 SLI board for Intel's Core i7.
The EVGA X58 SLI, pictured below, is based on Intel's X58/ICH10R chipset but remains true to NVIDIA with the undisguised SLI branding - despite the fact that the board supports both SLI and CrossFireX setups.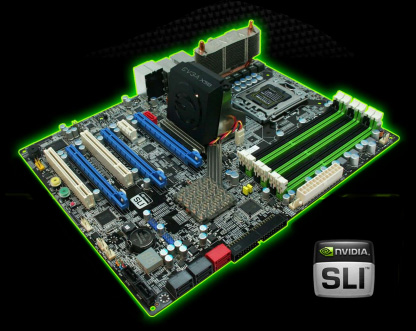 There's support for two-way and three-way setups of both SLI and CrossFireX, but EVGA hasn't yet disclosed PCIe speeds so we're assuming its two x16 and one x4. That is, of course, assuming that EVGA hasn't thrown in NVIDIA's NF200 bridging chip and raised the stakes with true full-speed triple SLI. If it hasn't done so on the X58 SLI, we'd expect it do so on the X58 SLI FTW.
EVGA has used 100 per cent solid-state capacitors and there's an array of overclocking-friendly features including a on-board debug LED, EZ Voltage, EVGA's VDroop Control and the geekily-titled EVGA E-LEET Tuning Utility.
Add ten SATA ports and one eSATA port into the mix, along with a not-as-bad-as-we'd-feared MSRP of $299.99, and you've another promising X58 motherboard.
EVGA expects its X58 SLI board to launch on November 17th.