Since early April, we've been predicting that AMD's 790GX would put NVIDIA's DX10 IGPs to the sword.
Back in June, we went hands-on with Biostar's TA790GX A2+, a board featuring the 790GX and SB750 combination. It appeared to be the best IGP yet, but other than a few leaked slides last month, news on the 790GX front has been a little quiet.
The chipset, expected to be announced last month, has yet to be officially launched by AMD. Fortunately, the giant Taiwanese-manufacturer Foxconn has stepped forward and launched its A7DA family of motherboards, featuring the promising 790GX and SB750 northbridge-southbridge combo.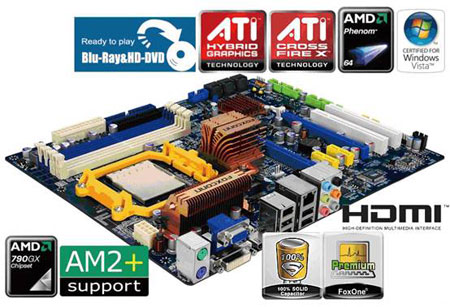 The boards, model numbers A7DA and A7DA-S, offer support for AMD's Phenom, Athlon and Sempron processors.
The integrated Radeon HD 3300 graphics processor is said to deliver 33 per cent more performance than the 780G's Radeo HD 3200. There's support for HyperTransport 3.0, and a built-in 128MB DDR2 SidePort memory module which Foxconn claims will boost graphics performance by up to 15 per cent.
As expected, there's support for Hybrid Graphics, and the two PCI-e 2.0 x16 slots will run at x8 when configured in CrossFireX.
If you're left wondering how the A7DA-S differentiates from the A7DA, don't worry, so were we. The only difference, it seems, is that the A7DA-S adds two FireWire connectors to its feature list.
It looks to be a promising board, and with early prices at around $126, it could prove to be a very popular solution.
The complete specification is as follows:
A7DA-S
AMD® 790GX & SB750

A7DA
AMD® 790GX & SB750

CPU Support

Supports AMD Socket AM2+/AM2 processors (Phenom™ FX, Phenom™, Athlon™ 64 FX*, Athlon™ 64 X2, Athlon™ 64, Sempron™)

H/T support

HyperTransport™ 3.0

Memory

Supports 4 x 240-pin DIMM of 1.8 Volt Dual Channel DDR2 1066*/800/667MHz, 8Gb max. memory capacity

Graphics

ATI Radeon™ HD 3300 graphics engine
- AMD Unified Video Decoder for HD playback
- Hybrid Graphics technology
- CrossFireX™ technology
- DirectX 10 support

Expansion

2* PCIe x16 slot (supports 2* x8 bandwidth)
2* PCIe x1 slot
2* PCI slot

Connectivity

6* SATAII, 2* IEEE1394a, 12* USB2.0, 1* ATA

6* SATAII, 12* USB2.0, 1* ATA

RAID

RAID 0, 1, 0+1, 5

RAID 0, 1, 0+1, 5

Audio

7.1channel HD Audio with multi-streaming

Networking

Gigabit LAN

Form Factor

ATX

* 1066MHz memory frequency only supported by Phenom™ processors
Official press release: Foxconn A7DA-S: The world's first 790GX and SB750 solution