Intel's Rocket Lake-S processors are going to be yet another line fabricated on the firm's 14nm node (expected to be the last for consumer desktops). The processors are thought to use 14nm backported Willow Cove cores, with 10nm Xe graphics chiplets. However, counterbalancing the modest tweaks on the processor silicon side of things will be what might be "the biggest upgrade to the mainstream desktop platform in years." NDA-busting website VideoCardz has shared a leaked slide containing a labelled block diagram of the Rocket Lake-S chipset, to back up that quote.
In summary the Rocket Lake-S processor range will launch alongside the Intel 500 Series chipset, according to the slide. It will bring major changes to the new LGA1200 socket motherboard on which it will feature.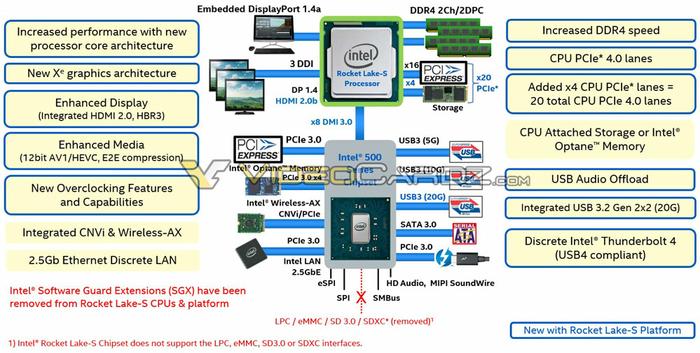 Probably the greatest touted upgrade is the introduction of 20 lanes of PCIe 4.0 to enable faster GPU and storage component communications. The 20 lanes available in total will facilitate x16 for GPU and x4 for NVME drives, as you can see from the diagram above (click to zoom image). Te PCIe 4.0 upgrade is currently of greatest impact in providing faster storage, as seen on AMD platforms.
Supporting integrated Xe graphics will be another important upgrade here. Enhanced display options get support via HDMI 2.0b and DisplayPort 1.4a connections on board. Additionally the Direct Media Interface will be upgraded to x8 link - double the transfer speed compared to previous generations.
Peripheral connectivity hasn't been ignored, with USB 3.2 Gen 2x2 (20G) provided by the platform, and your 500 chipset motherboard will be Intel Thunderbolt 4 (USB4 compliant) too.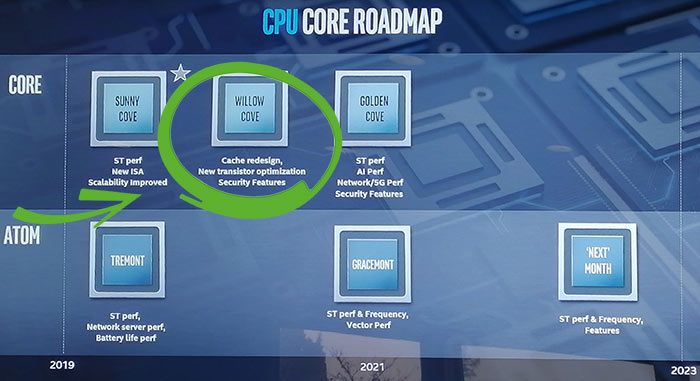 Among the other interesting introductions / changes you will notice that Intel Software Guard Extensions (SGX) have been removed from Rocket Lake-S CPUs and the platform. This is Intel cleaning house after a number of vulnerabilities used the so-called security feature as an attack vector. SGX was introduced alongside Skylake CPUs.
Rocket Lake-S, the successor to Comet Lake-S isn't expected to become mainstream until late 2020, but may well not launch until early 2021.