On pre-show day, Monday, Foxconn, like everyone else, was busy setting up its booth. Passing by the multitude of old-hat motherboards based on existing chipsets, the orange-coloured Concerto board drew some attention.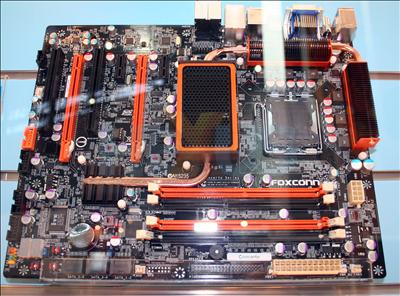 This particular model is based on the Intel G45 chipset, which betters the incumbent G35 by having faster, more feature-rich integrated graphics (X4500(HD)), PCIe Gen 2.0 connectivity, and an all-new southbridge, ICH10R.

The integrated graphics promise near-AMD 780G-matching performance, with respect to both 3D gaming performance - around 1,100 marks in 3DMark06, we're told - and hardware-assisted decode of high-def. content.

However, Intel has yet to ship fully-working DX10 drivers and if recent history is anything to go by, they may not be around anytime soon.

Particular to Foxconn, the Concerto G35 will ship with multiple SKUs, catering for both DDR2 and DDR3 memories, albeit not concurrently.

Naturally, the board will support the latest 45nm LGA775 processors, right up to the 1,600MHz FSB QX-series, and ATI's CrossFireX multi-GPU technology.

G45 will be on display from almost all top-level manufacturers at COMPUTEX 2008, but few will look as dashing as Foxconn's.