Intel officially announced the next iteration of midrange desktops chipsets this week.

The 4-series will arrive in the usual flavours - P for discrete graphics, Q for corporate and G for integrated graphics.

Each series is further subdivided in terms of speeds and features, so, for, example, there will be a G45, G43, and, most likely, G41.

Now, the G45, headlining the integrated graphics variant, has been displayed around CeBIT by all and sundry.

The blue giant is getting in on the act by releasing an Intel-branded motherboard based on its own chipset - who, after all, would be in a better position to leverage the design?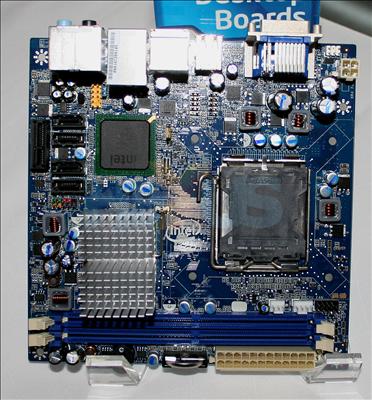 The clincher here is that the DG45FC - codenamed Flying Creek - is based on the mini-ITX form-factor, measuring just 17cm x 17cm.

The chipset supports dual-core and quad-core 45nm Intel processors - and the DX10-toting IGP currently scores around 1,100 marks in 3DMark06, making it useful for casual gaming.

Intel's newest IGP - the GMA X4500HD - also packs in the latest iteration of ClearView, adding hardware-accelerated support for displaying HD-encoded content.

Given the form-factor and options present on the IGP, we reckon that the DG45FC will make for a decent HTPC base.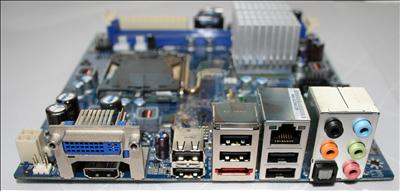 Display outputs, too, are good - HDMI and DVI are integrated on the I/O section.

Due for release around the time of Computex (June 3-7), the IGP might just have proper DX10 support, via drivers, in time. As it stands, though, X4500HD is only half a DX10 solution.