Information, including a block diagram for the Intel Z390 chipset has leaked. Tech site Guru3D shared the Z390 info, gathered from a Chinese source, and compared it to the existing Z370 specs to find only minor changes. Thus it is hoped that the upcoming 8-core Coffee lake CPUs will work fine on the Z370 chipset.
According to the report, Intel Z390 based motherboards will support all Coffee Lake desktop processors, and will also be compatible with the next-generation. The main difference with Z390 is that end users will benefit from the provision of some more external controllers such as those from ASMedia. Furthermore, it could have some "heftier CPU VRM specifications, to cope better with its upcoming 8-core LGA1151 processors," it is thought.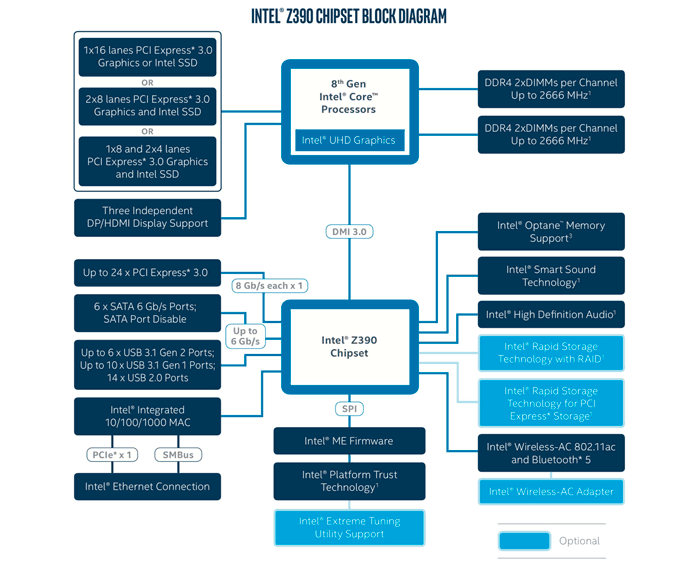 If you look over the block diagrams for Z390 and Z370, above and below respectively, it's hard to spot many changes. They both feature 24 PCI-Express gen 3.0 lanes, six SATA 6Gbps ports with AHCI and RAID support, up to three 32Gbps M.2/U.2 connectors, Intel SmartSound tech, and integrated Intel LAN - for example.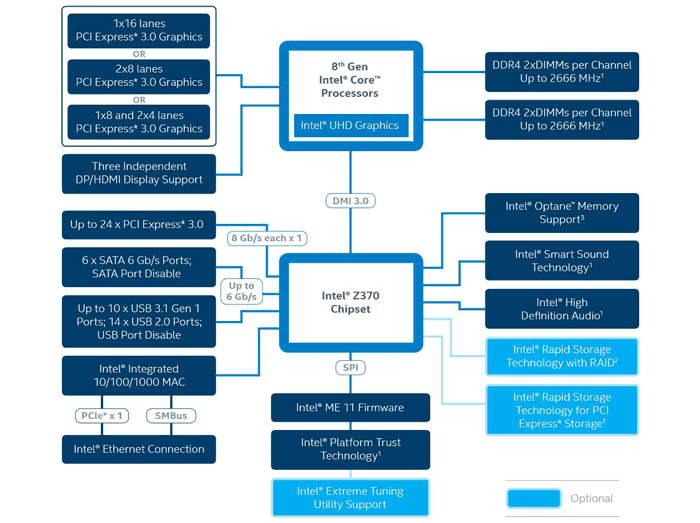 Behind the decision to offer a 'Z370 rebrand' for 8-core Coffee Lake CPUs is simple economics. TPU reckons Intel doesn't want to mass-produce Z390 chipset "on the busier-than-expected 14 nm silicon fabrication node" - as it doesn't have the capacity right now, it asserts. So, Intel will instead stick to the 22nm employed by 300-Series chipsets thus far.