It's liquid Nitrogen ready... no, really, it is!

You know you've got something to look at when the first thing you see is a bloody great heatsink on the Northbridge of a mainboard that's so deep you could brew a decent cuppa in it. And that's probably the most striking feature of the Blackops mainboard from Foxconn, a board so packed with features that it's likely to become the clocking board of choice for beginners and record breakers alike. Using the Intel X48 chipset this board is simply a beast…

Now I know that sounds daft as surely an overclocking beginner would get lost on a board that's suit the seriously techie, Nitrogen breathing, record attempting overclocking expert? Well, no, not really. What Foxconn has achieved with the Blackops board is a bit of kit as friendly as a Hooters barmaid, as extreme as naked snowboarder and as forgiving a Labrador puppy. Of course we've yet to test the board ourselves but the Foxconn overclocking evenagelist, Peter Tan walked me through some of the Blackops 'all rounder' features, which kinda has me thinking he might be right.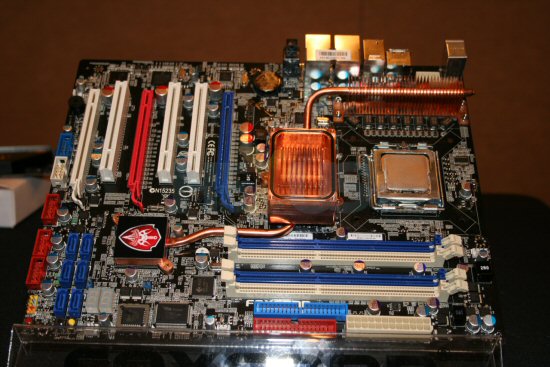 Click for larger image



So let's have a look at that immense Northbridge cooler. Right now it's a solid copper pot with heatpipe cooling running across the PWM, which is reinforce on the back of the board to stop board warping and keep a clean, firm contact with the pipe. Another pipe runs up from the Southbridge too. Now you can either fit a fan to the copper pot over the Northbridge for standard air cooling, or if you want to go a bit further, Foxconn will be supplying a water cooling inlet with the board, ready fitted with standard fittings for water cooling of your choice.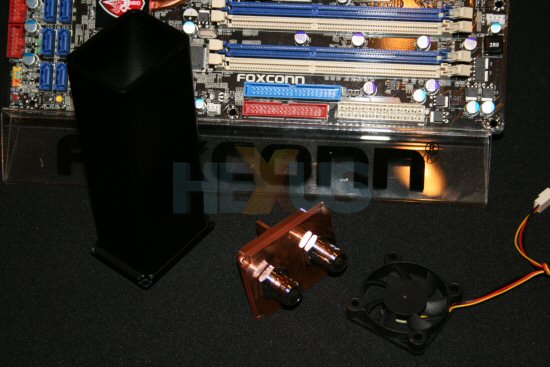 Click for larger image



But how about that damn great black tube? Yep, that's for the extremists. It too bolts onto the Northbridge copper pot and let's you top the whole thing up with dry ice or liquid Nitrogen for some serious cooling… and all ready to roll straight out of the box!

Now if you're overclocking you'll be fiddling about with the BIOS loads and Foxconn has fitted the Blackops with two BIOS chips, which on the final version will both be the eight pin type, and can be selected either through the BIOS boot menu or by a jumper on the board. Similarly, there's a jumper to load failsafe defaults should things go awry… and you can even hotswap the BIOS chips between each other on the board should a BIOS flash go wrong and you brick one. Classic.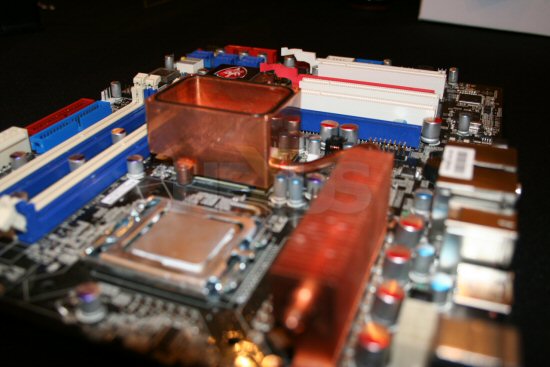 Click for larger image



And speaking of BIOS, I guarantee you haven't seen a BIOS like the one Foxconn has created for the Blackops… which you can read about in our other CES 2008 coverage.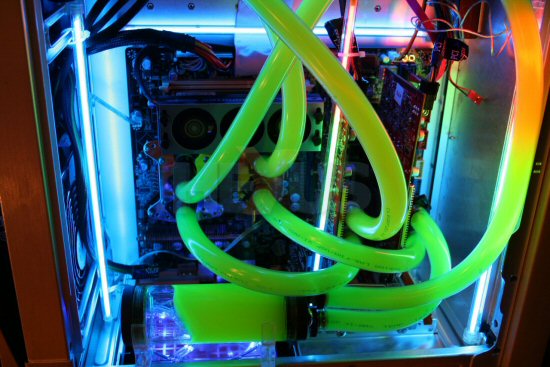 Click for larger image
All HEXUS CES 2008 content