Scores 28,313 on 3DMark06

Foxconn declared recently that its forthcoming BLACKOPS motherboard, part of its Quantum Force range, had scored 28,313 on 3DMark06. If numbers don't mean much to you, that's one of the highest scores ever and a new world record when using a HD3780 graphics card. In other words, it's pretty darn good.
Continuing to gleefully boast, Foxconn pointed out that its engineers had easily overclocked an Intel QX9770 Core 2 Extreme processor to 6GHz using LN2 cooling. They cited the board's 8-phase digital PWM as "one reason for the outstanding overclocking ability".
Peter "Shamino" Tan, Technical Consultant for the Quantum Force product line had said "This is a motherboard whose BIOS is still immature and whose hardware design is not fully tuned, and yet we already able to show such a strong performance capability".
Today, that very same board has been on show at CES and Foxconn has unveiled a few more goodies on this benchmark-setter.
First up is the 4in1 Quantum Cooler, an all-copper NB-SB-VRM heatpipe solution that can be chopped and changed with the bundled accessories to allow for passive or active air cooling, water cooling or indeed even dry ice cooling. Yeah, we weren't sure you'd believe it so here's the image to prove it: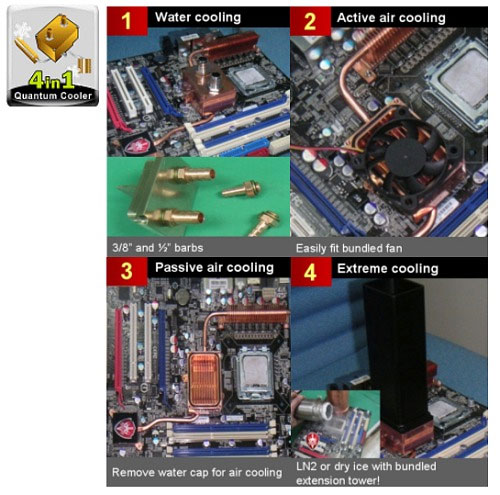 Peter Tan was on hand at CES and revealed that the board's BIOS has also undergone improvements. Speaking on the new Quantum BIOS, based on last year's Gladiator BIOS, Tan said:
"We have opened up many more settings for end users to access compared with the Gladiator BIOS, but this new BIOS is not just about more settings. Quantum BIOS introduces a new way of organising the information and options found in traditional BIOS menus, and we believe that we have created something more intuitive and user friendly. In addition, we've tried to explain what each setting does, and we have arranged them in logical groups where settings have an affect on each other".
No news on pricing just yet, but Foxconn expect the board to be available this quarter. Hands up, who wants one?
Official press release: New Quantum Force motherboard breaks 3DMark record in early testing