We expect to see Intel launch a variety of 300 series chipsets this year to support Coffee Lake processors in the mainstream desktop segment. Leading the charge will be Z370 motherboards like the Z370 Aorus Ultra Gaming, launching on 5th October. You will need a 300 series motherboard to partner with an Intel 8th gen Core CPU, such as one of the new hexacore Core i5 or i7 processors.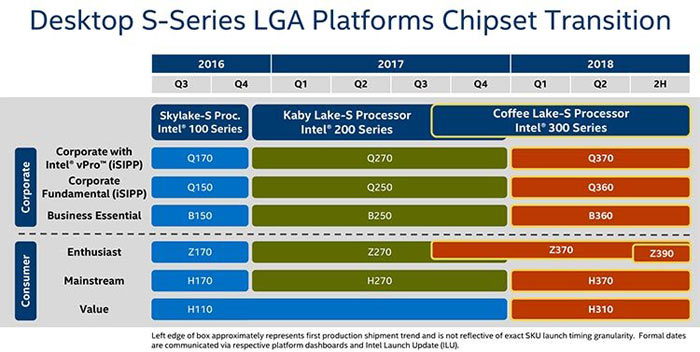 After these initial enthusiast level boards break the ice Intel is expected to follow up quite quickly with other 300 series chipsets such as the B360, H370 and H310. However some leaked roadmaps have contained a higher-end chipset, the Z390. What will it bring to the party?
A big clue to why Intel is launching Z390 in H2 2018 was provided by a Eurocom Support exec this weekend. As VideoCardz reports, the representative might have just "inadvertently revealed the biggest secret of the new chipset". It looks like the Z390 will be introduced to support new octa-core (and up to 16 thread) Intel CPUs.
Eurocom is well known for building desktop replacement and mobile workstation laptops, often using desktop parts. "We are planning to update Tornado F5 to Z390 chipset supporting 8C/16T CPUs coming in H2/18. We will launch F7 at the same time too. We will skip z370 chipset. Meantime we added support for Quadro P5000 and P3000," the Eurocom rep told NoteBookReview forum members.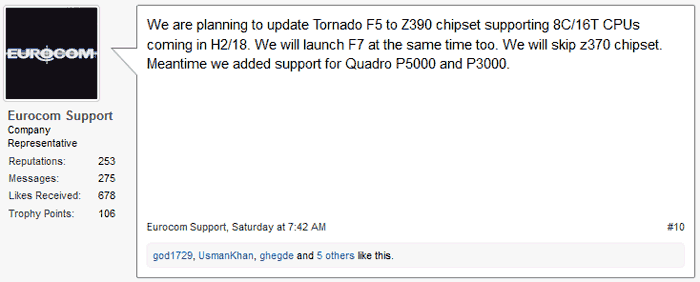 A particularly interesting piece of info within the above is the indication that Z370 boards won't support the 8C/16T processors due in H2 next year. If Z370 will only support up to six physical cores, then even before it is out we are already seeing the platform upgradability lifespan limited.