AMD has used its CES 2017 platform to showcase Ryzen Ready products such as AMD Ryzen based high-performance desktop PCs and motherboards. In total the firm had on display 17 powerful and innovative AMD Ryzen based desktops from the likes of CyberPower PC, Medion, and PC Specialist. Furthermore 16 high-performance AM4 motherboards sporting the Ryzen X370 and X300 chipsets graced its CES 2017 exhibition area. There are also some new third party cooler designs that are Ryzen ready.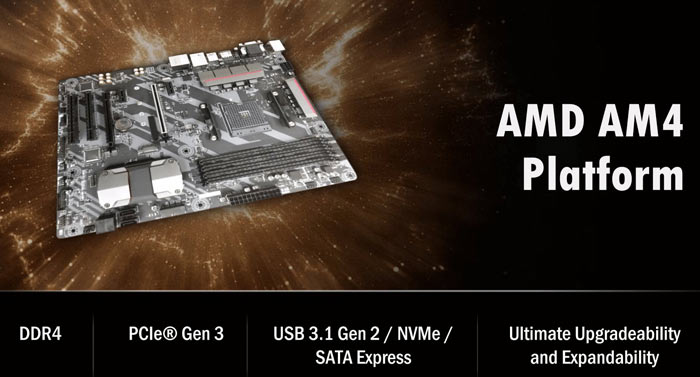 Jim Anderson, SVP and GM of the Computing and Graphics Group at AMD, said that "2017 will be an unforgettable year for AMD, its technology partners and the PC industry as a whole, and we're thrilled to kick off the year at CES by showing wide arrays of high-performance motherboard and PC designs from our OEM partners for whom the future is Ryzen". Anderson went on to promise a good degree of choice and innovation from third parties in support of the new "impressive systems," that enthusiasts will seek to build.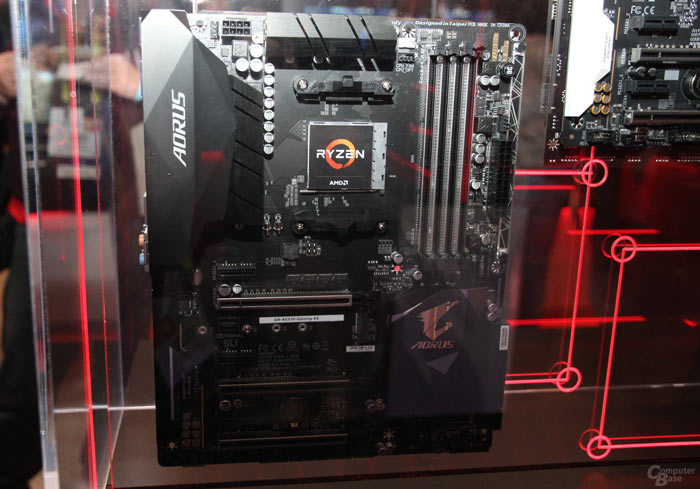 Motherboards
Partners including ASRock, Asus, Biostar, Gigabyte, and MSI are readying AM4 motherboards based around AMD's X370 and X300 chipsets. The X370 boards are aimed at those intending to build systems with the beefiest performance, newest features and expansive I/O options. Support for overclocking and dual graphics feature with these motherboards.
Meanwhile those who want compact but powerful systems might be attracted to the X300 chipset which can be found on mini-ITX sized boards yet still manages to pack in Dual-channel DDR4 memory, NVMe, M.2 SATA devices, USB 3.1 Gen 1 and Gen 2, PCIe 3.0 capability. Whatever AM4 board you choose they feature dedicated PCIe lanes for USB, graphics, data and other I/O.
The following motherboards are on show at CES now, and you can see a selection of them in the Twitter video below:
ASRock X370 Taichi, ASRock X370 Gaming K4, ASRock AB350 Gaming K4 & ASRock A320M Pro4
Asus B350M-C
Biostar X370GT7, Biostar X350GT5 & Biostar X350GT3
Gigabyte GA-AX370-Gaming K5, Gigabyte GA-AX370-Gaming 5, Gigabyte AB350-Gaming 3 & Gigabyte A320M-HD3
MSI A320M Pro-VD, MSI X370 Xpower Gaming Titanium, MSI B350 Tomahawk & MSI B350M Mortar
At #CES2017 we are wowing audiences w/ 16 high-performance AM4 motherboards for the Ryzen X370 and X300 chipsets. https://t.co/EjblPZQ53e pic.twitter.com/X6zgEDrmDg

— AMD Ryzen (@AMDRyzen) 5 January 2017
Ryzen PCs
AMD has a long list of system builders who are readying one or more PCs based upon Ryzen. It promises that there will be a 'dream PC' for everyone, "from exotic, custom water-cooled systems to more refined, practical solutions". The following companies are displaying their Ryzen PCs at CES:
Caseking
CSL - Computer
CyberPower PC
Cybertron PC
Icoda (Korea)
IBUYPOWER
iPason Wuhan
Komplett
LDLC
Maingear
Mayn Wuhan
Medion AG
Mindfactory
Oldi (Russia)
Origin PC
Overclockers UK
PC Specialist
We're bringing innovation and competition back to your desktop with Ryzen. Check out these dream PCs we're showing off at #CES2017: pic.twitter.com/kewwv1eycp

— AMD Ryzen (@AMDRyzen) 5 January 2017
Check out the Twitter video above for a good overview of the multitude of Ryzen PC systems on show.
Last but not least 15 top cooler manufacturers and vendors are creating an array of aftermarket CPU coolers for AM4 processors. AMD name checks the likes of Noctua and EKWB as currently having such coolers ready or in development.
AMD says that Ryzen processor-based PCs, AM4 motherboards, and compatible cooling solutions are expected to be available in Q1 2017.